Executive Summary
The global biochips market size is expected to grow from USD 17.52 billion in 2020 to USD 36.82 billion by 2026 at a CAGR of 13.2%.
In the current market environment, biochips are increasingly being adopted in a variety of programs in the field of genomics, drug discovery, and proteomics. In addition, the development of targeted and individualized drugs for the treatment of cancer and technological advances in biochips also support the growth of biochip products.
The share of microfluidics is expected to grow at the highest CAGR between 2020 and 2026. The growing demand for POC diagnostic devices such as glucose monitoring and pregnancy test kits is driving the market up in the microfluidics segment.
The share of hospitals and diagnostic centers segment is expected to grow at the highest rate in the market, by the end-user. The increasing use of biochips in hospitals and diagnostic centers due to its benefits such as reduced time and cost, the ability to deliver high power without the need for heavy metals drives the market growth in this segment among end-users.
The biochips market is divided into five major regions - North America, Europe, Asia Pacific, Middle East and Africa, and Latin America. In 2020, North America is expected to account for the largest share of this market, followed by Europe. Factors such as the increase in the number of older people and the increase in the incidence of life-threatening illnesses and heart disorders are contributing to the growth of the North American biochips market.
On the other hand, the Asia Pacific market is estimated to be growing at the highest CAGR during the forecast period. Rapid growth in the biotechnology industry in China and India, growth in biotechnology and pharmaceutical research, and low infrastructure costs are some of the factors contributing to the growth of the biochips market in Asia.
The prominent players in the global biochips market are Abbott Laboratories (US), Agilent Technologies, Inc. (US), Thermo Fisher Scientific, Inc. (US), PerkinElmer Inc. (US), GE Healthcare (US), Fluidigm Corporation (US), Illumina, Inc. (US), Bio-Rad Laboratories Inc. (US), Cepheid Inc. (US), and F. Hoffmann-La Roche AG (Switzerland).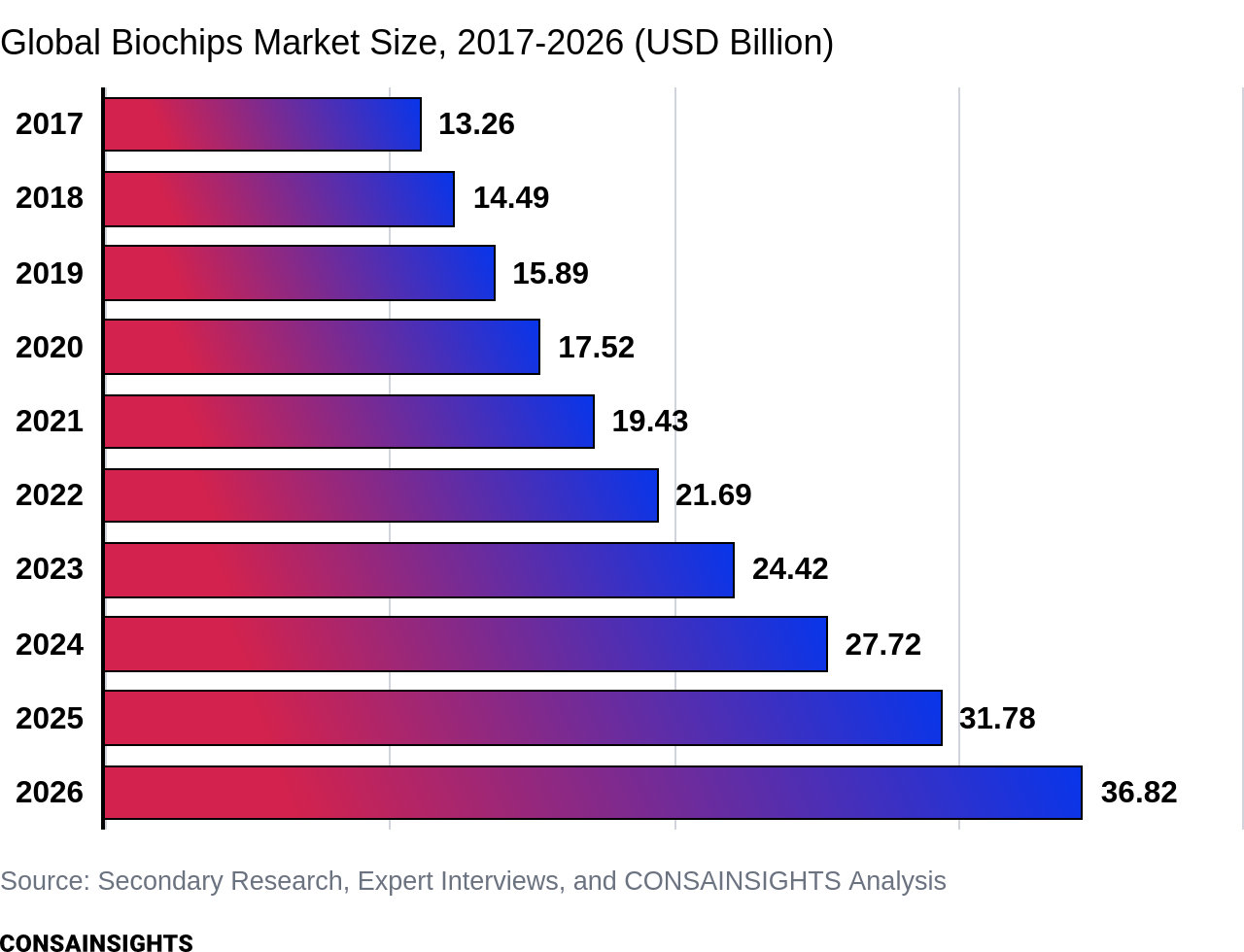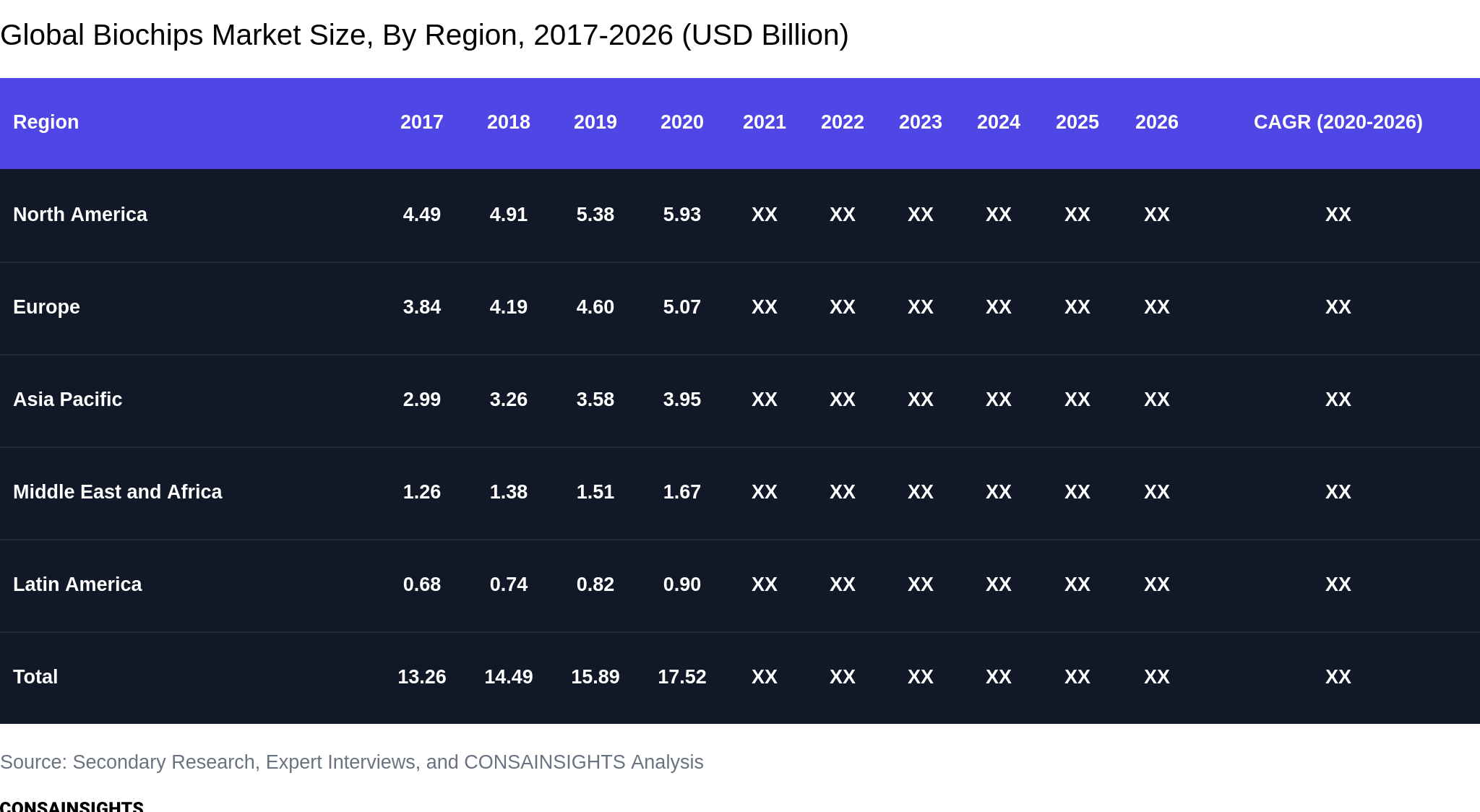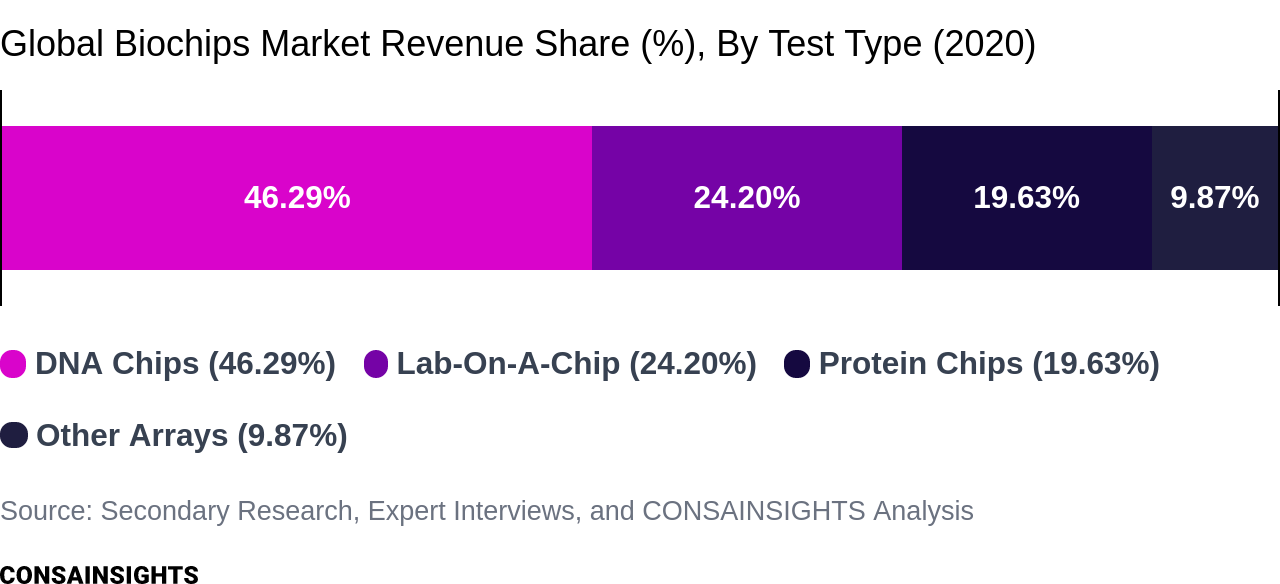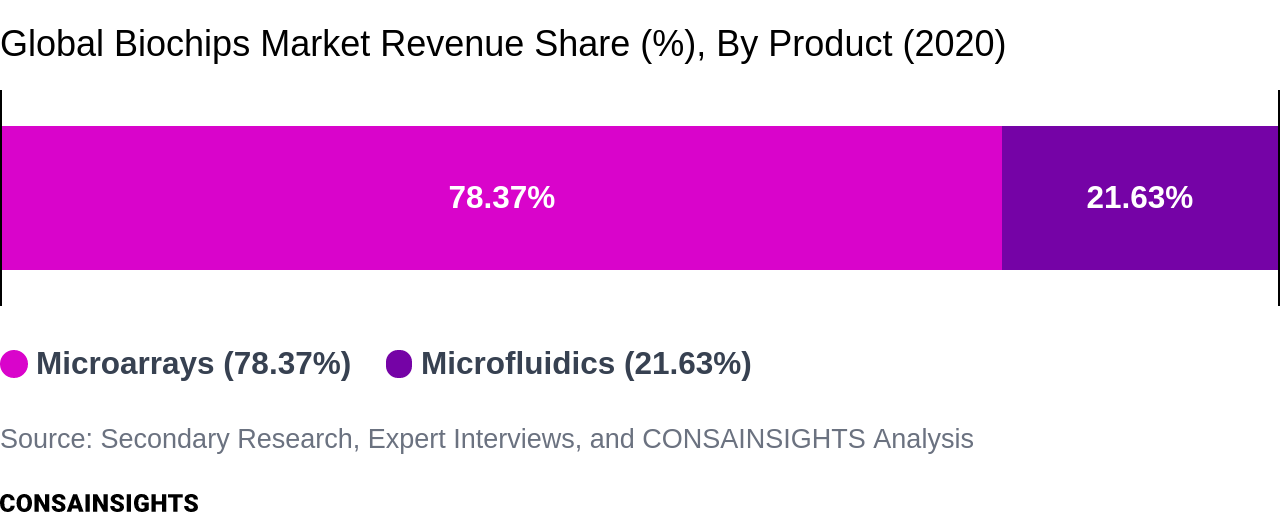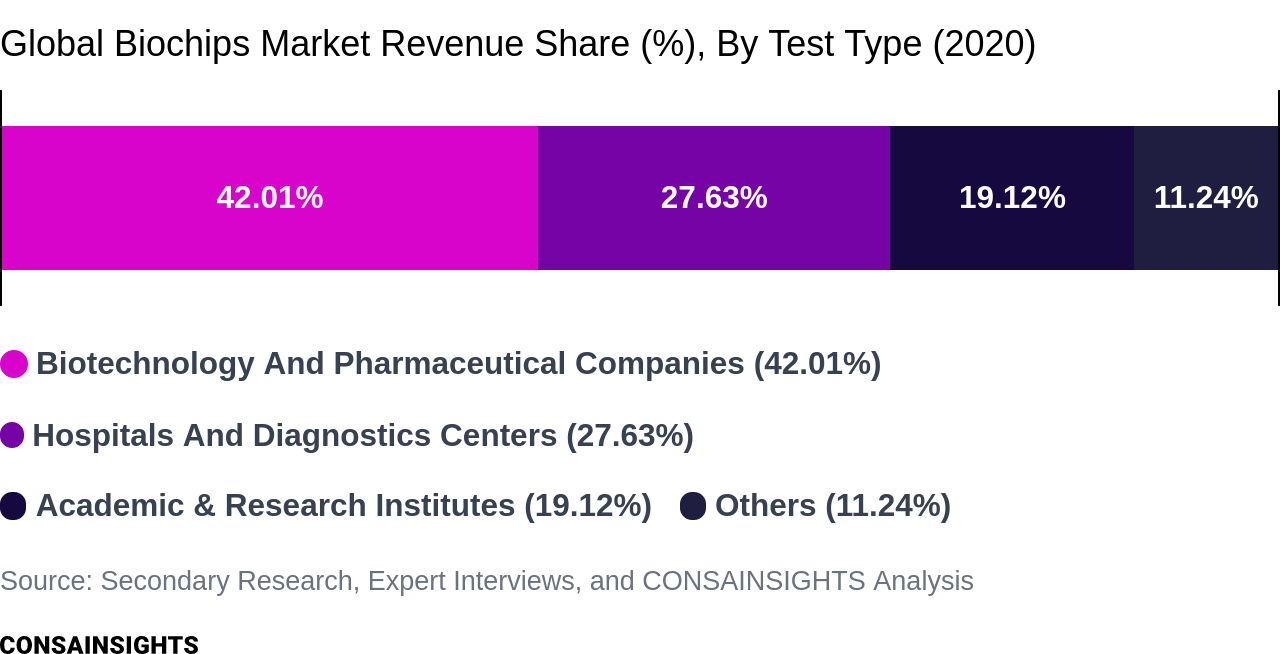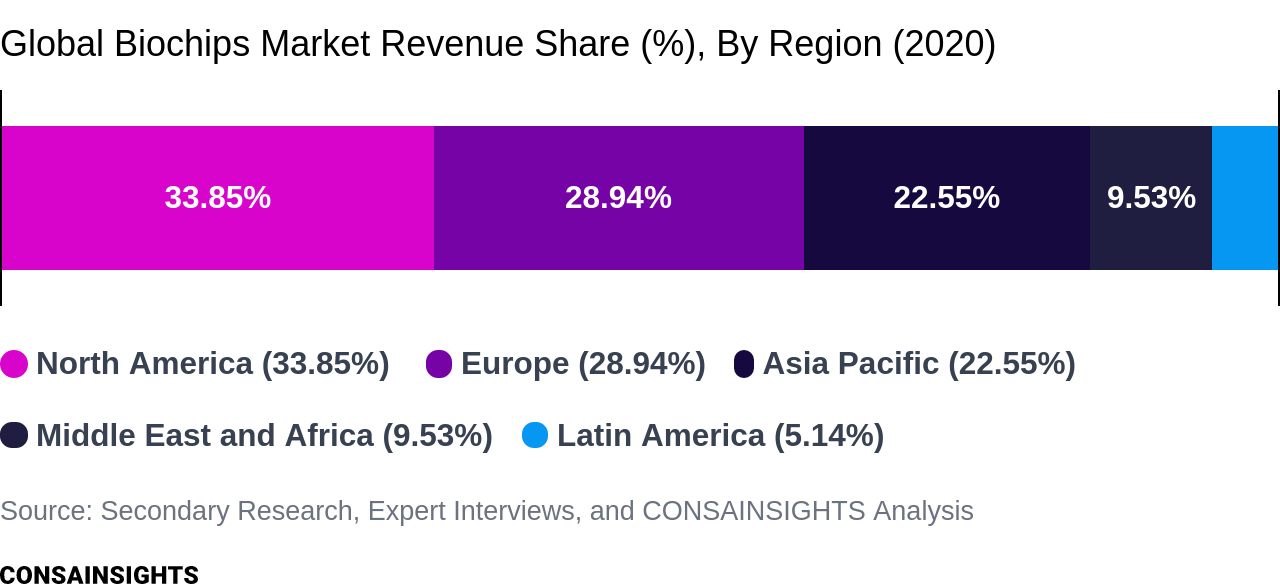 Market Overview
Definition & Scope
A biochip is a microchip designed or intended to function in a biological environment, especially inside a living organism.
Currency, Year & Forecasts Overview
•
For companies reporting their revenues in other currencies, the average annual currency conversion rates were used for a particular year to convert the value to USD.
•
For companies reporting their revenues in USD, the revenues were taken from their respective annual reports/SEC filings.
•
The currency used in this report is USD, with the market size indicated in terms of USD million/billion.
Industry Analysis
Unlock all the content, buy full report now.
Buy Full Report
Market Analysis
Unlock all the content, buy full report now.
Buy Full Report
By Type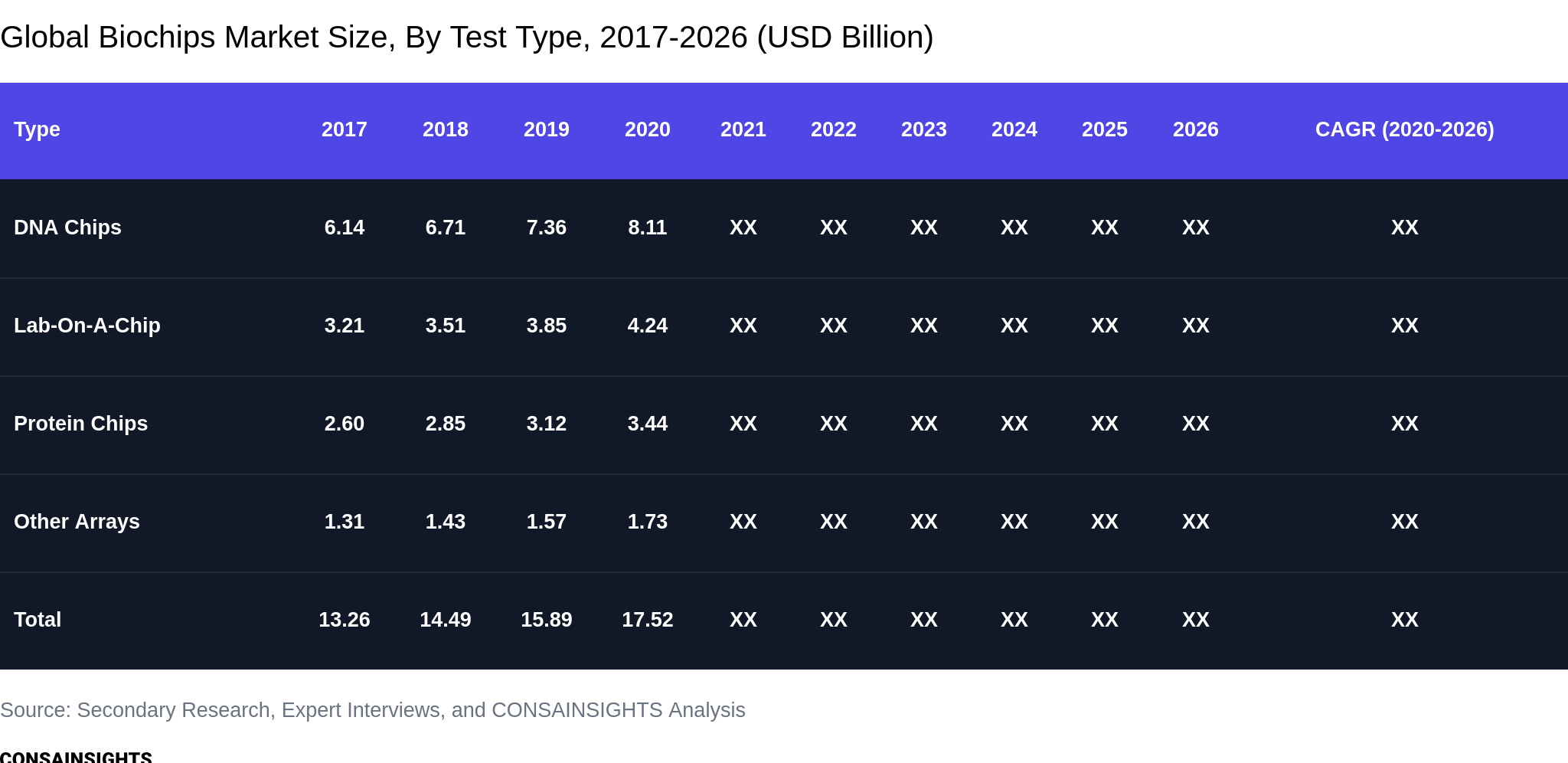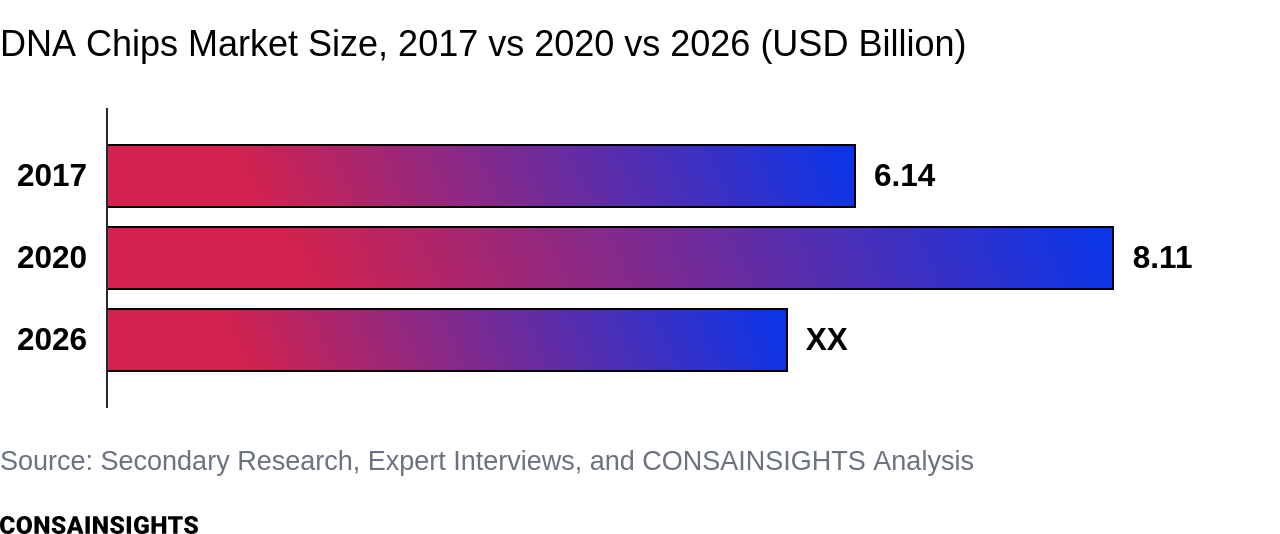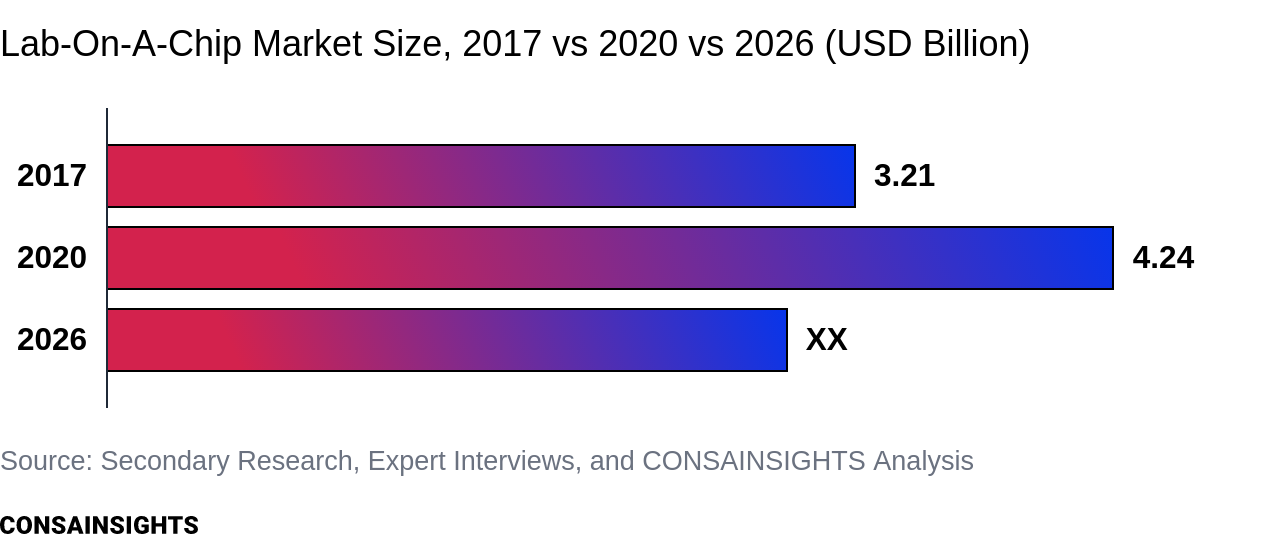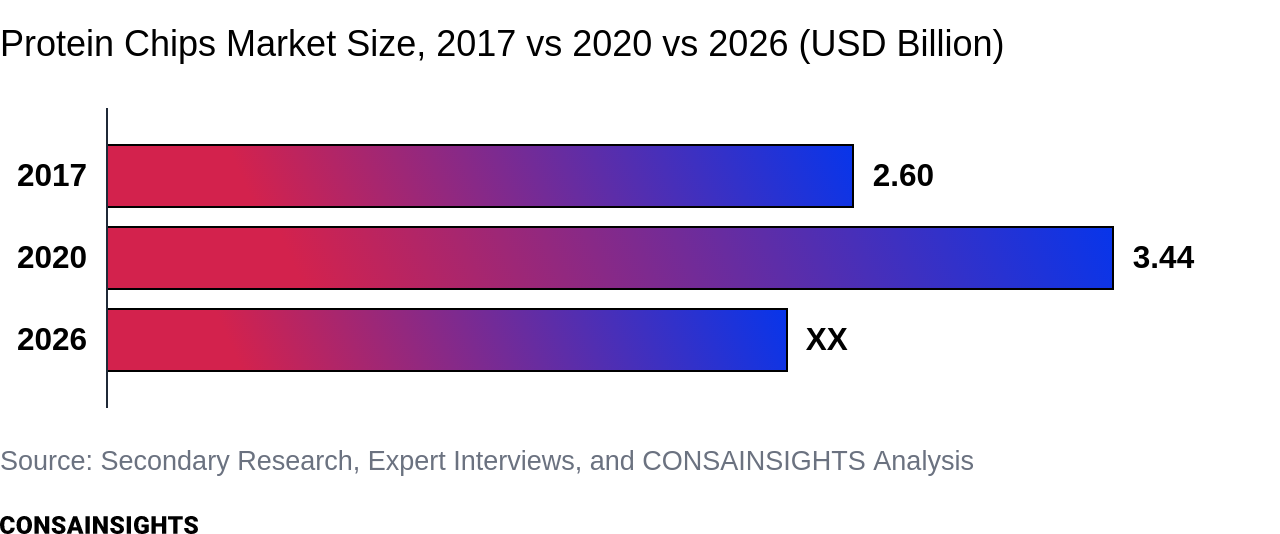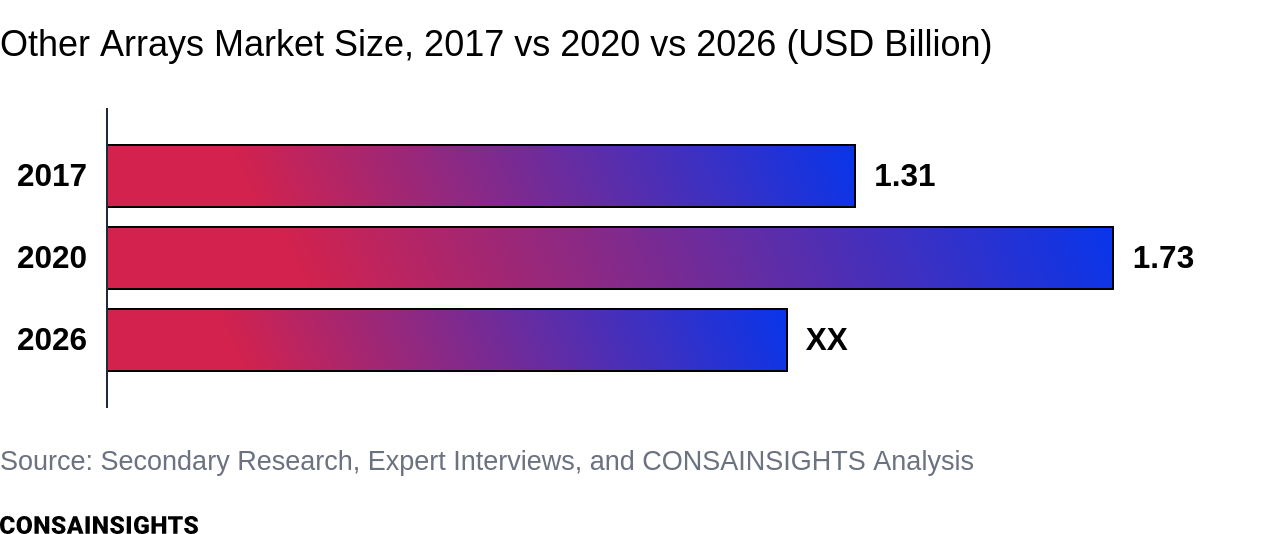 By Fabrication Technology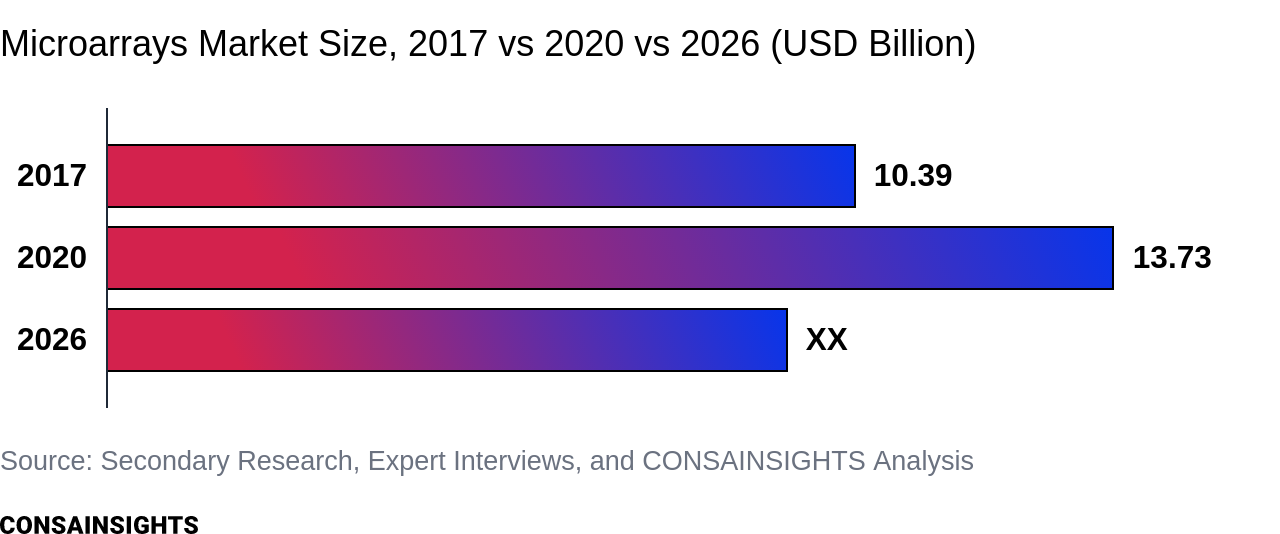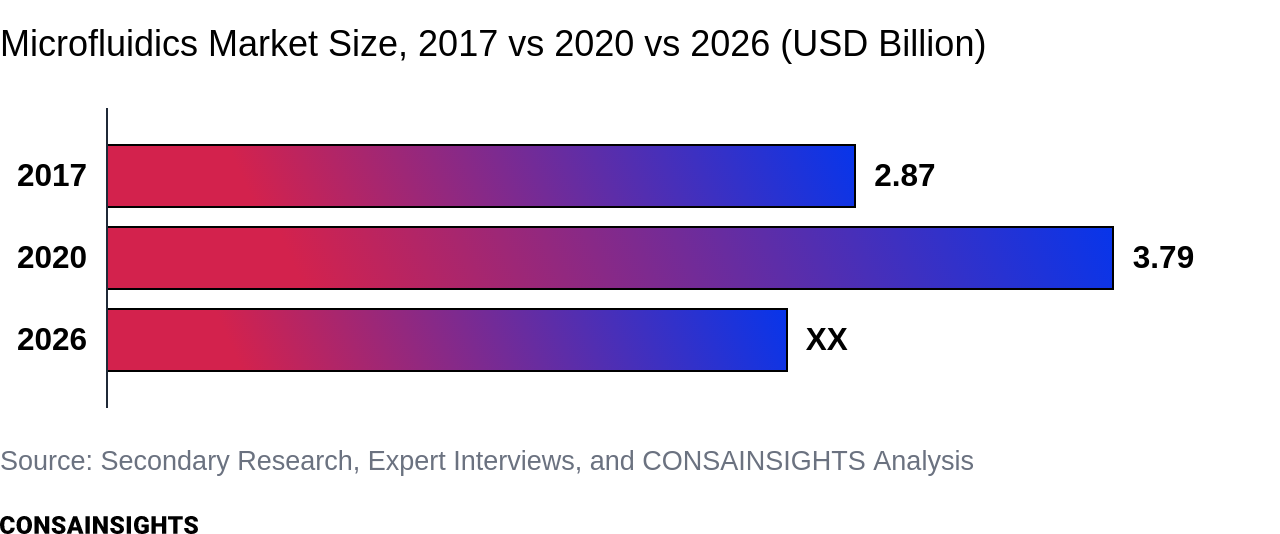 By End User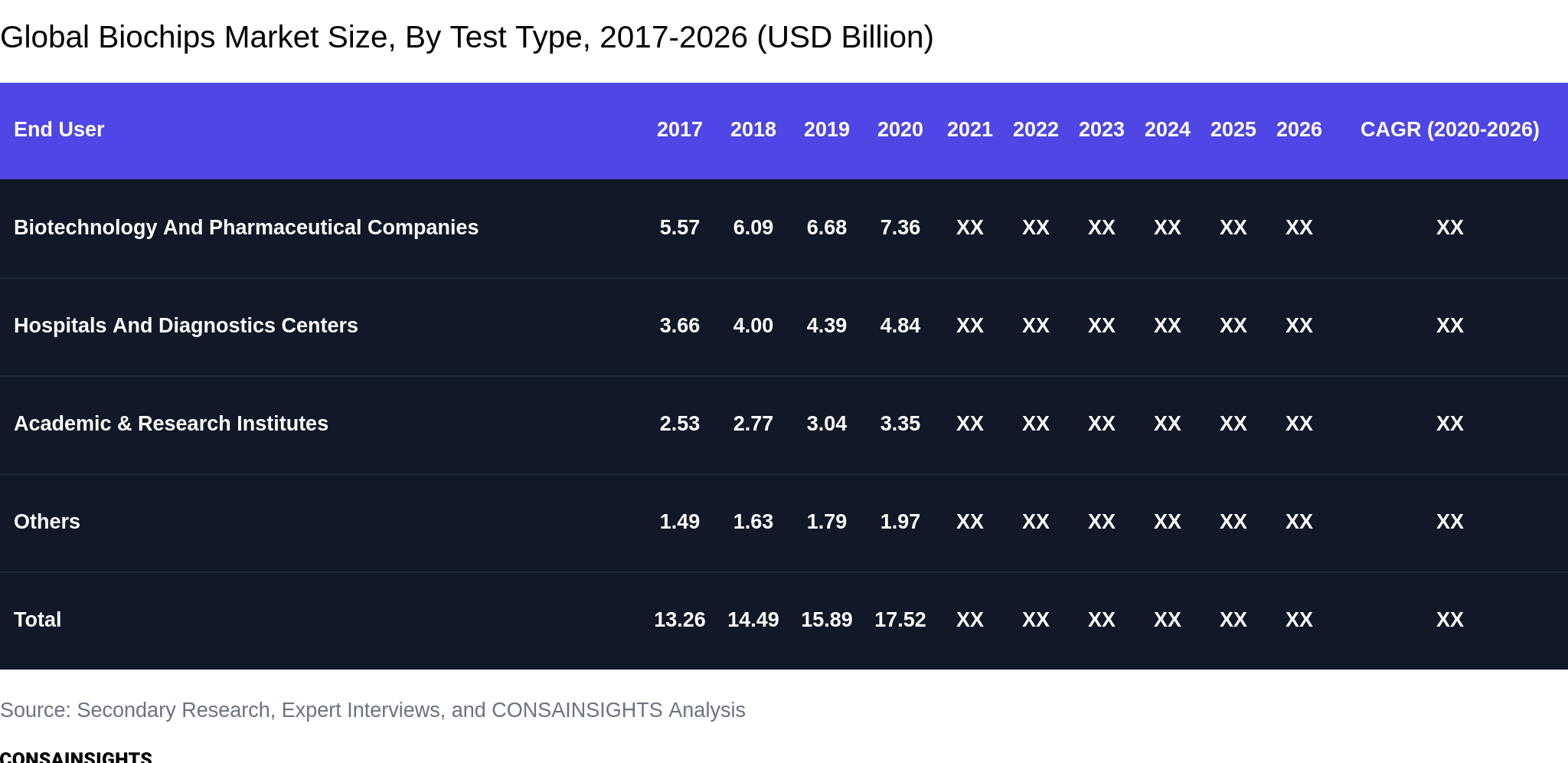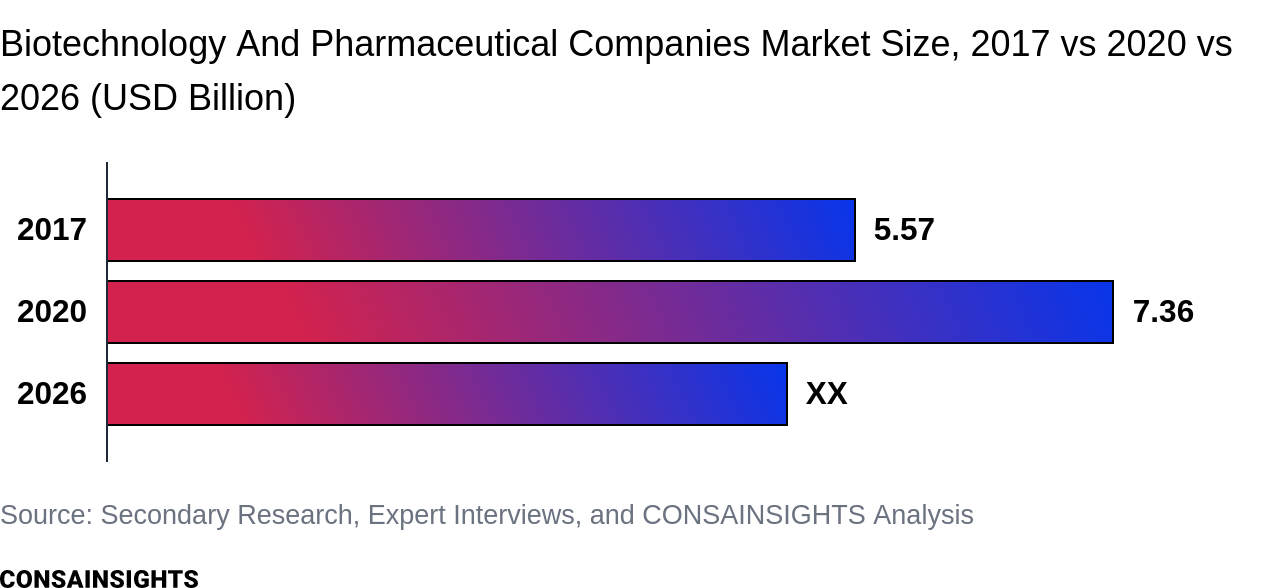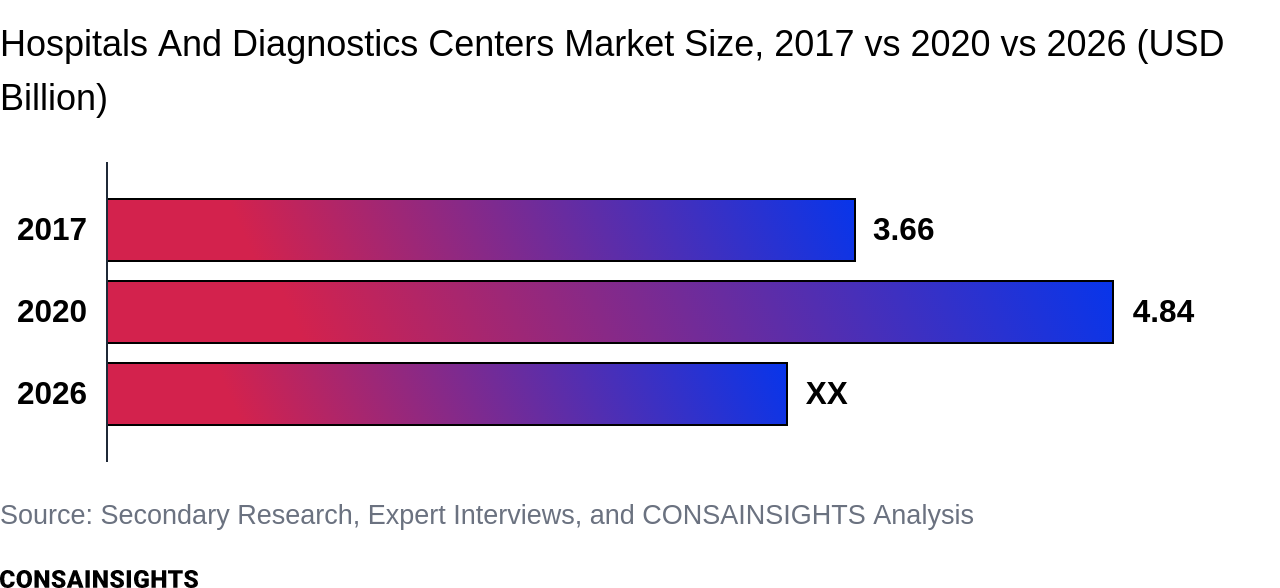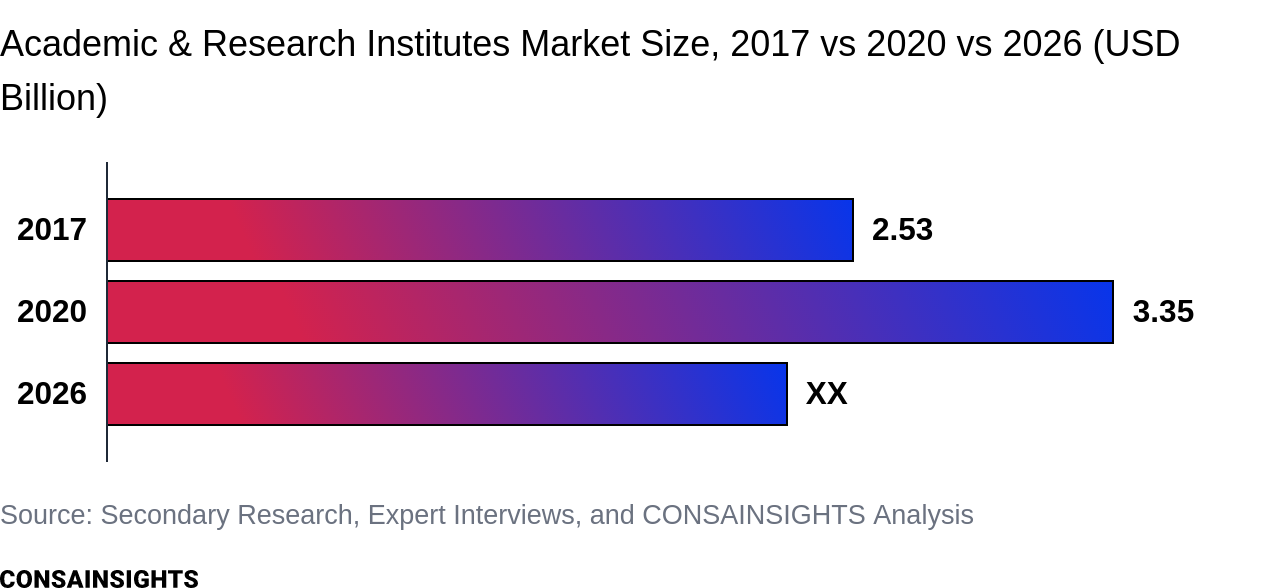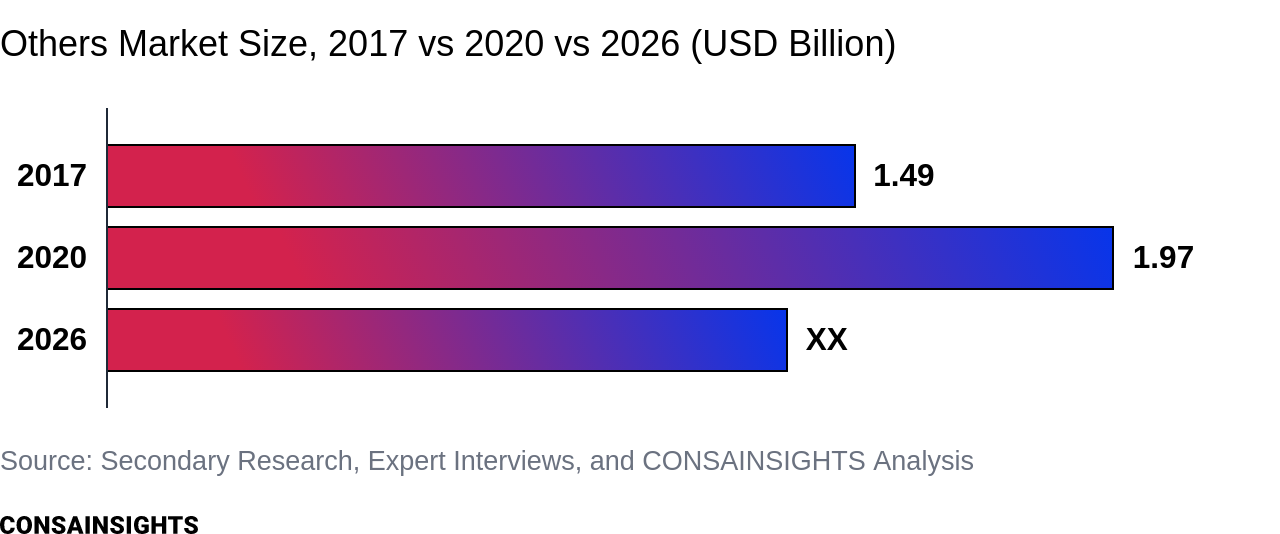 Middle East & Africa
Unlock all the content, buy full report now.
Buy Full Report
Company Analysis
Thermo Fisher Scientific
Thermo Fisher Scientific was founded in 1956 and is headquartered in Massachusetts, US. Its employee strength is 80,000. The company has direct presence across the regions of North America, Europe, Asia Pacific, Middle East and Africa, and South America. It is a leading global supplier of life sciences technologies and solutions. Thermo Fisher Scientific enables its customers to make the world cleaner, safer, and healthier. Thermo Fisher Scientific serves over 400,000 customers from the fields of pharmaceuticals, biotech, hospitals, clinics, diagnostic labs, universities, research institutes, and government.
ProtoArray Microarray Scanners and Detection
Competitive Analysis
Unlock all the content, buy full report now.
Buy Full Report
Analyst Insights For Success
Unlock all the content, buy full report now.
Buy Full Report
Research Methodology
This research study involved the usage of extensive secondary sources, directories, and databases such a Hoovers, Bloomberg Business, Factiva, and Avention, in order to identify and collect information useful for this technical, market-oriented, and commercial study of the global biochips market. The primary sources were mainly industry experts from the core and related industries. These include service providers, technology developers, standards and certification organizations, and organizations related to all segments of the value chain.
In-depth interviews were conducted with various primary respondents, which include key industry participants, subject-matter experts (SMEs), C-level executives of key market players, and industry consultants, to obtain and verify critical qualitative and quantitative information as well as to assess future prospects.
Various secondary sources were referred to for the identification and collection of information for this study. Secondary sources include annual reports, press releases, and investor presentations of companies, white papers, medical journals, certified publications, articles from recognized authors, gold standard and silver standard websites, directories, and databases.
Secondary research was mainly used to obtain key information about the industry's supply chain, market's monetary chain, the total pool of key players, market classification and segmentation according to industry trends to the bottom-most level, geographical markets, and key developments from both market-and technology-oriented perspectives.
After the market engineering process (which includes calculations for market statistics, market breakdown, market size estimations, market forecasting, and data triangulation) was completed, extensive primary research was conducted to verify and validate the critical numbers arrived at. Primary research was also conducted to identify the segmentation types; industry trends; key players; the competitive landscape of global biochips market; and key market dynamics such as drivers, restraints, opportunities, challenges, and key industry trends.
In the complete market engineering process, both top-down and bottom-up approaches were extensively used along with several data triangulation methods to perform market estimation and market forecasting for the overall market segments and sub segments listed in this report.
Appendix
Available Customisations
•
With this full-market report, Consainsights offers customization options to our clients.
•
Custom Research: Consainsights offers custom research services across the Industries we track. In case of any custom research requirement, please send your inquiry at sales@consainsights.com
Related Reports
•
Microarray Analysis Market
•
Nanotechnology in Medical Devices Market
•
HighThroughput Screening HTS Market