Executive Summary
The global chromatography resin market size is expected to grow from USD 2.03 billion in 2020 to USD 3.20 billion by 2026 at a CAGR of 7.9%.
The market is largely driven by the growing demand for chromatography resin in applications such as medicine & biotechnology, food and beverage, water and environmental analysis, and more. Factors such as the increasing demand for antibodies, the government-independent investment in pharmacology and health sciences, and the growing concern for food safety will drive the chromatography resin market. North America is a major market for chromatography resin, globally, followed by Europe and Asia-Pacific, in terms of volume and quantity.
Although the COVID-19 epidemic continues to reverse the growth of various industries, the impact of the outbreak remains variable. While a few industries will register for the demand for pull, many others will continue to stabilize and show promising growth opportunities (pharma and biotech). The market for chromatography resin has seen significant growth in the past. Due to the unexpected outbreak of COVID-19, the market will see further growth in 2020, due to the increasing use of chromatography techniques in the adoption of various drugs. Currently, an increasing number of research activities are being conducted to test the effect of COVID-19 on human bodies, as these outbreaks have led to a global crisis. In addition, technological advances and the increasing importance of chromatography in laboratories, forensic laboratories, and medical R&D will enhance market growth during forecasting.
Chromatography is an important step in the purification of monoclonal antibodies (mAbs). Over the past decade, there has been a significant increase in the need for monoclonal antibodies in oncology and other treatments for Alzheimer's and autoimmune and inflammatory disorders. The demand for medical care has been growing because of the growing number of patients. As a result, almost all major pharmaceutical companies have developed R&D of antibodies. In monoclonal antibody purification, anionic impurities such as nucleic acids and endotoxins are removed by anion exchange chromatography. In drug discovery applications, this process uses a large number of resins, as the use is not limited to purification but is also used to study the ionic interactions of molecules. Contaminants such as albumin and transferrin are removed by Size Exclusion Chromatography (SEC). A high degree of purification can be achieved through the use of protein resin A/G/L solids. This is because antibodies bind by selective A/G/L ligands and resins.
The chromatography resin market has been seeing rapid technological advances in recent years. There is a shortage of skilled professionals to use chromatography equipment and to make skills in the pharmaceutical industry. Proper use of chromatography equipment requires expert knowledge and knowledge of various chromatography techniques. For example, inconsistent column packing can lead to lower levels of cleanliness and productivity, which can affect the final quality of the product. In addition, the selection of the appropriate chromatography method plays an important role in the purification of proteins and other biomolecules. Unnecessary use of resins or processes can cause significant financial losses.
The market for biosimilars is a rapidly growing biologics sector worldwide. Expired patents in this sector will encourage more companies to invest in biosimilars over time. Chromatography is one of the most important differentiation methods used in the formation of biosimilar antibodies. The growing demand for biosimilars is estimated to increase the use of chromatography resins during climatic conditions. Existing biosimilars are used to treat cancer, arthritis, infectious diseases, psoriasis, anemia, kidney failure, type 1 and type 2 diabetes, post-menopausal osteoporosis, and hormonal disorders. The most important areas of treatment where various biosimilars are in the line include oncology, autoimmune diseases, diabetes, and hepatitis. Apart from this, biosimilars can be formed by other chronic diseases, such as meningitis, breast cancer, T-cell leukemia in adults, obesity, high blood pressure, and hepatitis E.
Most of the first biological drugs lost their patent in the first half of the 20th century, while many of the best-selling drugs now lose their patent for years to come. This creates new opportunities for biosimilar drugs. For example, in 2016, the patent for AbbVie's Humira (Adalimumab), which has been shown to treat autoimmune diseases and moderate rheumatoid arthritis, expired in the US. It expired in Europe in 2018. This is expected to create significant opportunities for low-cost biosimilars in the US and Europe.
The natural polymer used in chromatography techniques is extracted from living cells such as plant and bacterial cells. Agarose, cellulose, and dextran are natural polymers that are widely used as resins in chromatography applications. Chitosan is also used as a resin in a few chromatography applications. Most of these natural polymeric compounds are polysaccharides. The main advantage of these natural polymers is their hydrophilic nature, as they have a large number of hydroxyl groups in their structure. This provides functional sites for binding relevant ligands. Natural polymeric frames have lower mechanical stability than synthetic frames. In analytical experiments where frames are exposed to extreme pressures and pH conditions, a synthetic polymer is more suitable than a natural polymer. However, on an industrial scale, where conditions are limited, these natural polymers are further developed to achieve a greater degree of bonding, thus obtaining the appropriate mechanical strength. The widespread use of natural polymers in the industrial purification of biomolecules leads to higher use of these compounds than synthetic polymer.
Affinity chromatography offers high selectivity, refinement, and strength in many protein purification schemes. It has the advantage of using a natural protein structure or purifying function. As a result, time-consuming and complex cleaning can often be achieved with close chromatography. Major applications of intimate chromatography include compound separation of compounds, removal of impurities from the purification process, enzyme testing, detection of substrates, investigation of binding enzyme binding sites, in vitro antigen-antibody reaction, and detection of single nucleotide polymorphisms and mutations -nucleic acid. High demand for protein A resins and IMAC resins in the field of chromatography technology is expected to drive the chromatography resin market.
Increasing R&D in areas of treatment, such as cancer, HIV/AIDS, and immunodeficiency disorders, technological advances in biotechnology research, increasing the focus of pharmaceutical and biotechnology companies on expanding their product pipeline, a growing number of drug discovery and clinical trial projects, and the expiration of patent blockbuster drugs and biomolecules are some of the key factors contributing to the growth of this category. In addition, the availability of government and company funding for biotechnology and pharmaceutical research, the growth of the pharmaceutical industry, and the existence of strong drug and safety management guidelines are some of the factors contributing to the growth of this sector.
North America makes the largest share in the chromatography resin market in terms of volume and quantity. The strong anticolonial antibody market in North America is a major driver of resin sales in this segment. Modern chromatographic methods are also widely used in food analytics and for other diagnostic purposes in the US and Canada. Key providers in the region include Bio-Rad (US), Thermo Fisher (US), and Repligen (US). Almost every major pharmaceutical company has its research centers in North America. The region has been at the forefront of the R&D of biopharmaceuticals. The North American resin market is driven largely by the growing demand for monoclonal antibodies, rising R&D costs by pharmaceutical and biotechnology companies, and the presence of major players in the region.
The North American region has a diverse and well-established R&D infrastructure. This market sees rapid adoption of chromatography techniques among large segments of end-users due to supportive government regulation and the high availability of research and private investment funds.
Europe was the second-largest market for chromatography resin, in essence, in 2020. Germany is the main market for chromatography resins in Europe. Some countries, such as Austria and Switzerland, are also important markets for chromatography resins. The presence of a large number of pharmaceutical manufacturers and research organizations in these countries contributes to the growing market for chromatography resins in Europe. The rise of serious diseases in Europe is expected to drive the market for antibody therapeutics in the region over the next decade. This, in turn, will lead to a higher demand for chromatography resin in lower applications. However, the highly regulated sector of biologics in Europe is a major challenge for resin providers. Regulatory bodies, including the European Medicines Agency (EMA) and the European Commission (EC), have put in place very strict guidelines, claiming that biologic drug manufacturers and biosimilars submit strong data to demonstrate the effectiveness and safety of the product.
The key market players are Bio-Rad Laboratories (US), Thermo Fisher Scientific Inc. (US), GE Healthcare (US), Merch KGaA (Germany), Tosoh Corporation (Japan), Cytiva (US), Sartorius Stedim Biotech S.A. (France), Purolite Corporation (US), Bio-Works Technologies AB (Sweden), Mitsubishi Chemical Corporation (Japan), Avantor Performance Materials, Inc. (US), and Repligen Corporation (US).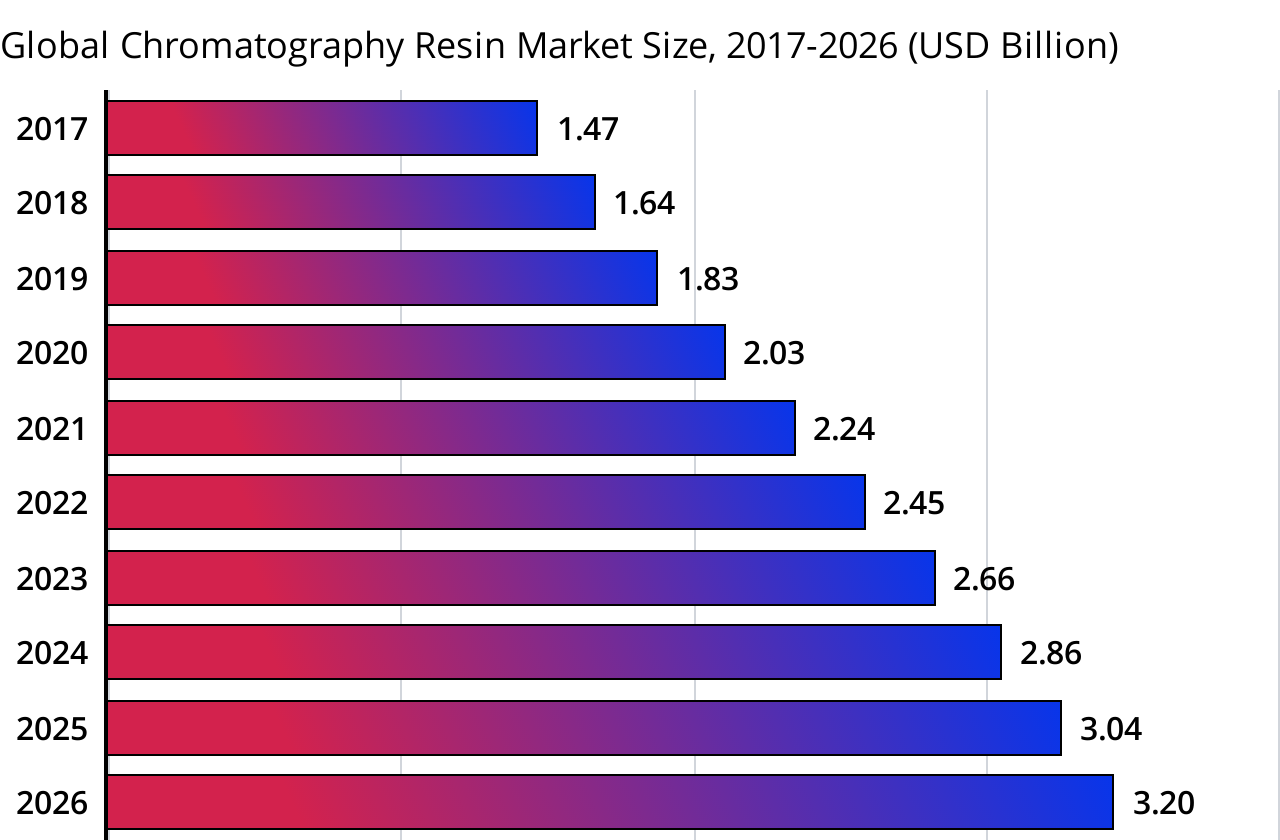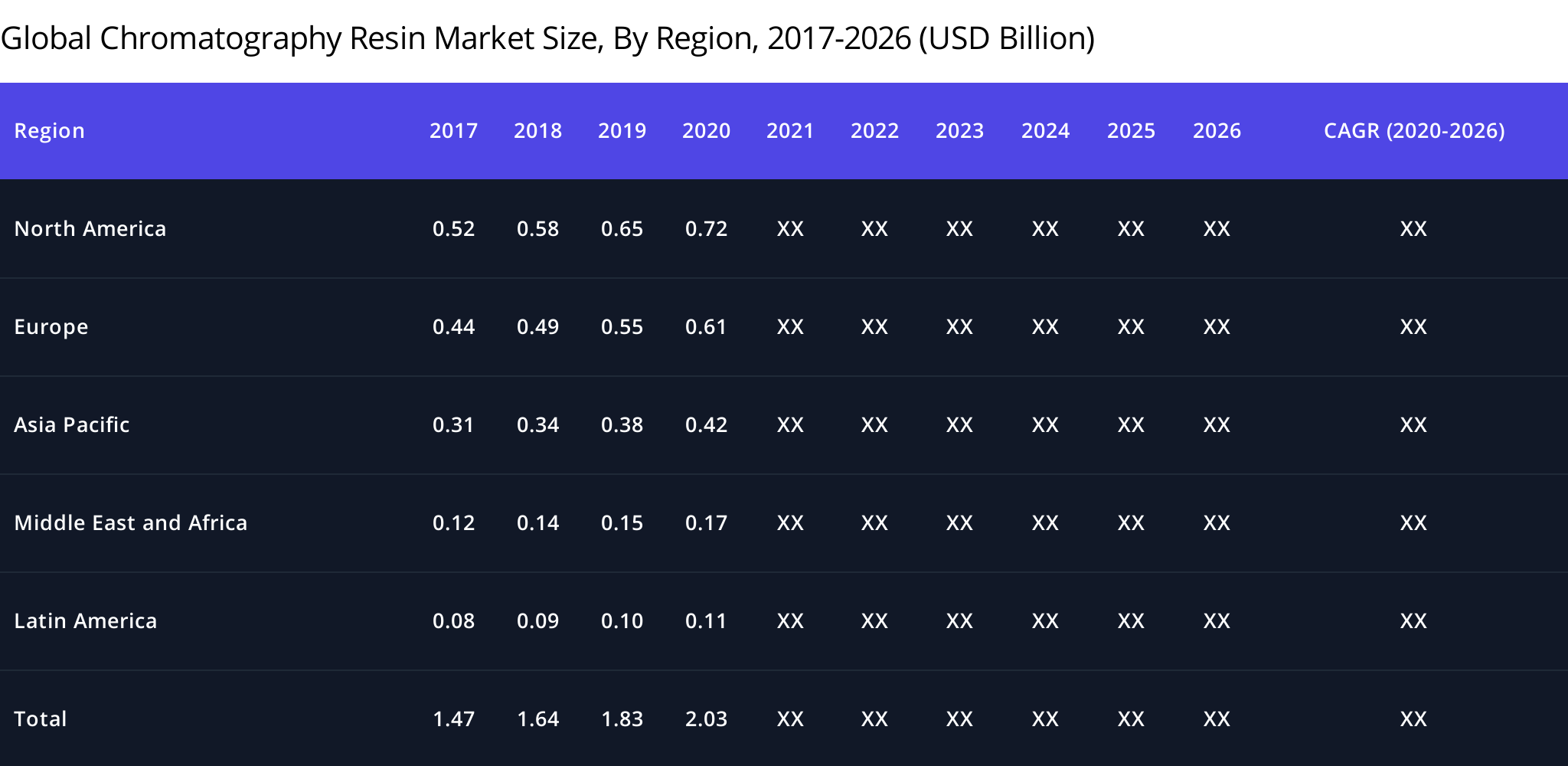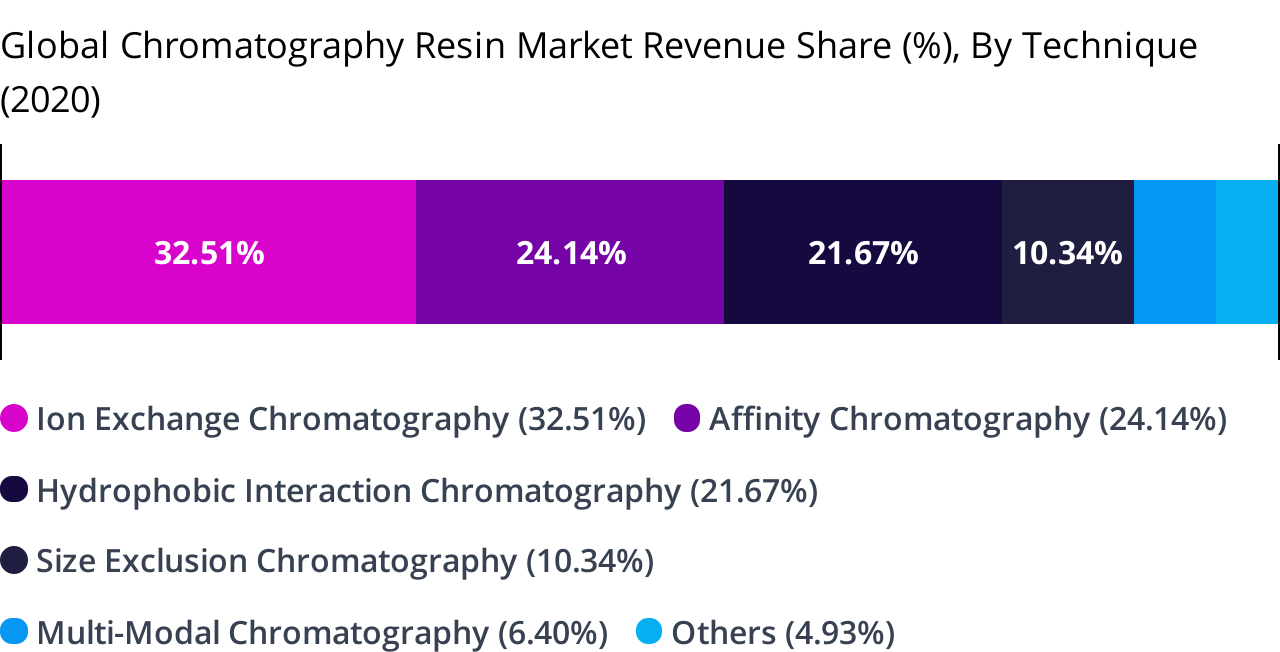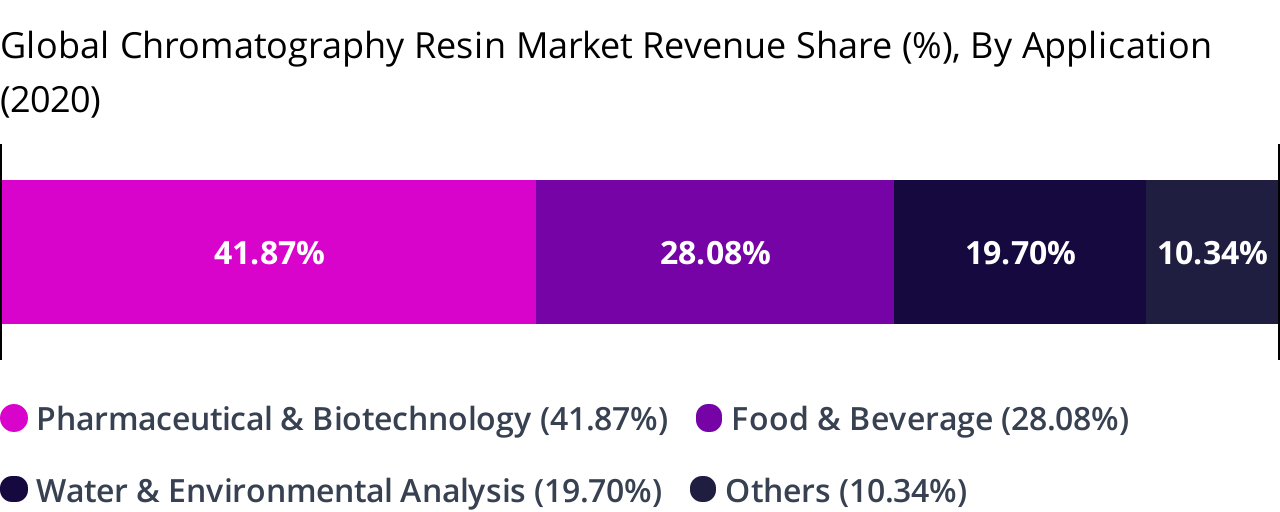 Market Overview
Definition & Scope
Chromatography resins are media used to capture and polish mAbs, antibody fragments, vaccines, and other biomolecules that use a fixed phase. There are several types of resins for both refining and refining purposes.
Currency, Year & Forecasts Overview
•
For companies reporting their revenues in other currencies, the average annual currency conversion rates were used for a particular year to convert the value to USD.
•
For companies reporting their revenues in USD, the revenues were taken from their respective annual reports/SEC filings.
•
The currency used in this report is USD, with the market size indicated in terms of USD million/billion.
Industry Analysis
Unlock all the content, buy full report now.
Buy Full Report
Market Analysis
Unlock all the content, buy full report now.
Buy Full Report
By Type



By Technique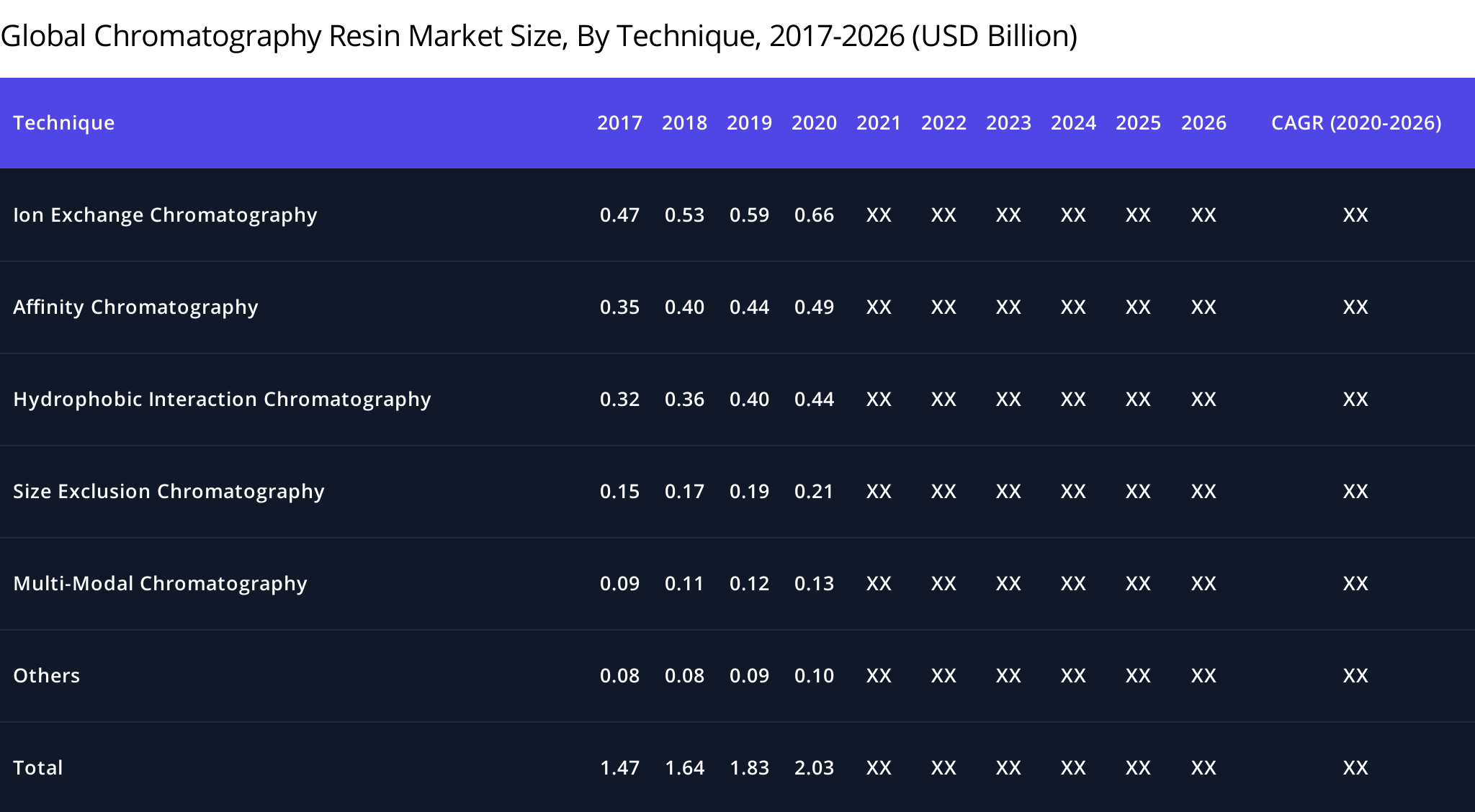 By Application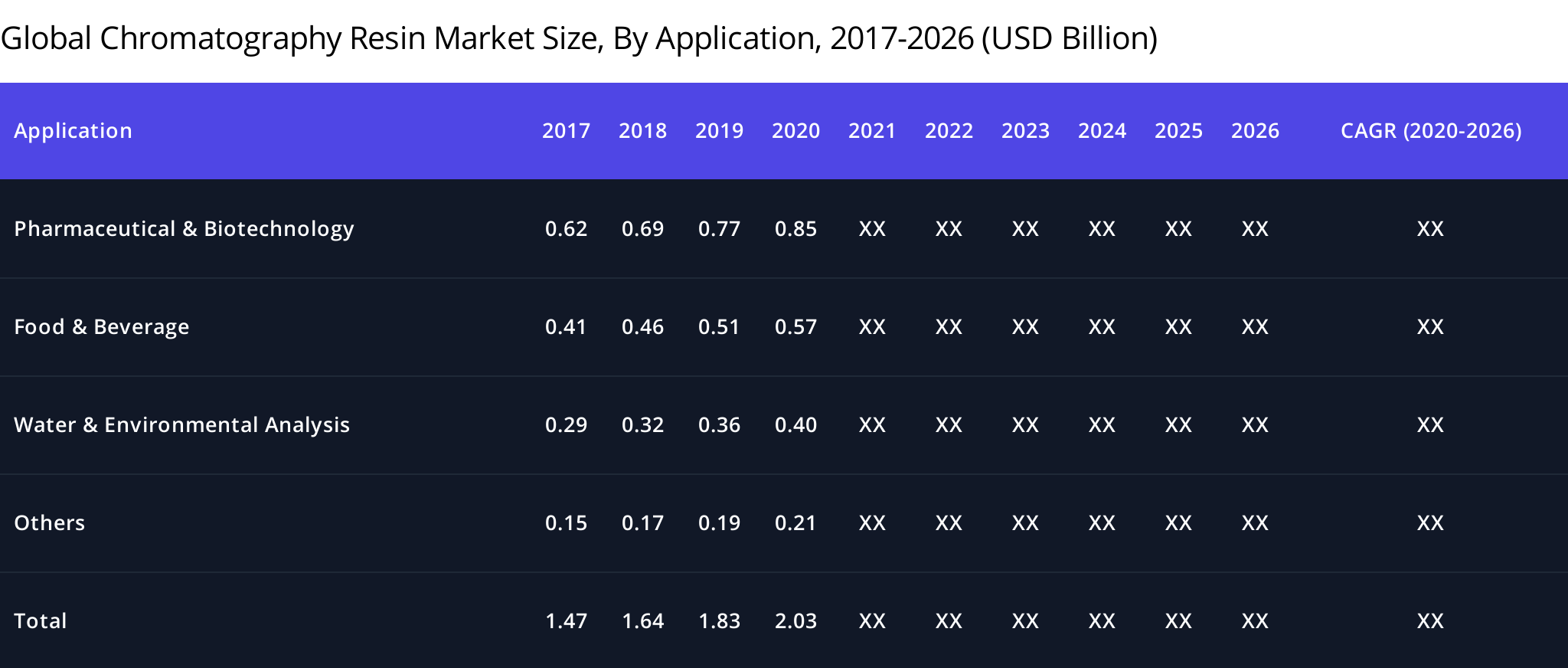 Middle East & Africa
Unlock all the content, buy full report now.
Buy Full Report
Company Analysis
Thermo Fisher Scientific
Thermo Fisher Scientific was founded in 1956 and is headquartered in Massachusetts, US. Its employee strength is 80,000. The company has direct presence across the regions of North America, Europe, Asia Pacific, Middle East and Africa, and South America. It is a leading global supplier of life sciences technologies and solutions. Thermo Fisher Scientific enables its customers to make the world cleaner, safer, and healthier. Thermo Fisher Scientific serves over 400,000 customers from the fields of pharmaceuticals, biotech, hospitals, clinics, diagnostic labs, universities, research institutes, and government.
Bioprocessing: Chromatography and Purification Solutions for Bioprocessing
Competitive Analysis
Unlock all the content, buy full report now.
Buy Full Report
Analyst Insights For Success
Unlock all the content, buy full report now.
Buy Full Report
Research Methodology
This research study involved the usage of extensive secondary sources, directories, and databases such a Hoovers, Bloomberg Business, Factiva, and Avention, in order to identify and collect information useful for this technical, market-oriented, and commercial study of the global chromatography resin market. The primary sources were mainly industry experts from the core and related industries. These include service providers, technology developers, standards and certification organizations, and organizations related to all segments of the value chain.
In-depth interviews were conducted with various primary respondents, which include key industry participants, subject-matter experts (SMEs), C-level executives of key market players, and industry consultants, to obtain and verify critical qualitative and quantitative information as well as to assess future prospects.
Various secondary sources were referred to for the identification and collection of information for this study. Secondary sources include annual reports, press releases, and investor presentations of companies, white papers, medical journals, certified publications, articles from recognized authors, gold standard and silver standard websites, directories, and databases.
Secondary research was mainly used to obtain key information about the industry's supply chain, market's monetary chain, the total pool of key players, market classification and segmentation according to industry trends to the bottom-most level, geographical markets, and key developments from both market-and technology-oriented perspectives.
After the market engineering process (which includes calculations for market statistics, market breakdown, market size estimations, market forecasting, and data triangulation) was completed, extensive primary research was conducted to verify and validate the critical numbers arrived at. Primary research was also conducted to identify the segmentation types; industry trends; key players; the competitive landscape of global chromatography resin market; and key market dynamics such as drivers, restraints, opportunities, challenges, and key industry trends.
In the complete market engineering process, both top-down and bottom-up approaches were extensively used along with several data triangulation methods to perform market estimation and market forecasting for the overall market segments and sub segments listed in this report.
Appendix
Available Customisations
•
With this full-market report, Consainsights offers customization options to our clients.
•
Custom Research: Consainsights offers custom research services across the Industries we track. In case of any custom research requirement, please send your inquiry at sales@consainsights.com
Related Reports
•
Chromatography Instruments Market
•
Preparative and Process Chromatography Market