Executive Summary
The global clinical trial management system (CTMS) market size is expected to grow from USD 731.8 million in 2020 to USD 1,618.0 million by 2026 at a CAGR of 14.1%.
CTMS market growth is driven by growing industrial and educational partnerships, an increasing number of clinical trials, an increase in the adoption of technology, and government funding for research trials. However, budget constraints and limited information about advanced CTMS solutions hinder the market growth.
Due to the outbreak of COVID-19, treatment options for all specialty items and practices are under considerable pressure; providers worldwide have been overwhelmed by the growing and growing number of patients. The outbreak of the epidemic has caused major financial problems for pharma-biopharma companies in several countries. In this regard, CTMS has proven to be very useful, as it allows industrial and academic researchers to monitor patients using digital-connected platforms while helping to organize and evaluate clinical data for control delivery.
The COVID-19 epidemic also increased the need for social isolation between physicians and patients, leading to the demand for remote patient monitoring and digital solutions for the collection and analysis of clinical data. Various players in this market have introduced COVID-19 features in their existing EHRs, made available to users for free.
The life science industry testifies annually to an increase in the number of clinical trials. The increase in the number of clinical trials can be attributed to factors such as the high prevalence of chronic diseases, the end of blockbuster drugs, the availability of government funding for clinical trials, and intense competition in the pharmaceutical industry. In recent years, leading players have introduced many CTMS solutions in the market boasting superior performance than their traditional counterparts. These products are cost-effective, easy to use, provide effective patient safety and compliance, and improve users' financial management capabilities. It empowers organizations to use fully integrated CTMS without complex configurations and heavy investment associated with traditional solutions.
Small and medium-sized customer centers often face financial challenges for clinical trials due to limited independent funding, strong regulatory authority, and financial perspective. These include ineffective site selection, incorrect study and criminal prosecution, security issues, and dropping out of school due to physical or financial problems. In addition, the time and money required to complete the test increase in each phase. The total cost of Phase III failure includes the cost of all previous phases, as well as the time that could be spent testing a different drug. Each failed test contributes to the rising cost of biopharma R&D. Although spending on R&D in the health sciences industry is on the rise, start-ups and SMEs are still facing budgetary constraints, affecting their decision to purchase CTMS solutions. Because of uncertainties in product approvals, unnecessary delays in product approvals, and long periods of pregnancy, private investors often prefer established firms to invest in them rather than start SMEs.
The need to adhere to strict rules was crucial in accelerating the adoption of new technologies in research. Although technology delivery has grown and the regulation of new methods has slowed down, pharmaceutical companies have been slow to implement emerging technologies due to the uncertainties in the area and the highly fragmented retail market. Recently, pharma companies have increased costs in AI and big data analysis, given their flexible size through the R&D process and cost savings. Fear of market competition and the need for business transformation and resilience are key factors that drive large investments in R&D technology.
Lack of professionals with the skills to manage complex digital solutions in research teams hinders the growth of the CTMS market. With a huge time crisis and rising costs, CROs and pharmaceutical companies are reluctant to invest in training their research staff. Therefore, there is a huge gap between the existing and skilled staff in the medical research industry, which restricts the adoption and use of complex software solutions in clinical trials. The development of easy-to-use software solutions can be a major growth opportunity for software vendors in this market.
By deployment mode, the CTMS market is divided into enterprise-wide and on-site CTMS. The wider segment of the business had the largest share in 2020. A large share of this category can be attributed to its widespread discovery by all end-users due to its benefits.
By delivery mode, the market for CTMS is divided into web-based (on-demand), licensed enterprise (on-premises), and cloud-based (SaaS) clinical trial management systems. Among these, the web-based segment dominated the market in 2020. A large share of this category can be attributed to the benefits offered by web-based software, such as easy access, improved productivity, and time efficiency, and cost-effectiveness.
By product and service, the CTMS market is divided into software and services. The rising cost of R&D, the increasing number of clinical trials, and the increasing adoption of clinical trial management solutions are some of the key factors contributing to the growth of the software market.
By end-user, the CTMS market is divided into large pharma-biotech companies, small & mid-sized pharma-biotech companies, CROs, medical device manufacturers, and other end users. One of the key drivers of the use of CTMS is the growing emphasis on R&D. For example, US PhRMA member companies have increased their R&D costs from ~USD 26.0 billion in 2000 to USD 58.8 billion in 2015 (Source: Pharmaceutical Research and Manufacturers of America). Due to the rising cost of R&D costs, reimbursement for results, and strict rules imposed on large pharma companies, part of their R&D operations are outsourced to smaller pharmaceutical companies, which increases corporate growth in this sector.
The Asia Pacific market is expected to register the highest CAGR during the climate. In 2020, the Asia Pacific region is expected to provide significant opportunities for market growth of the clinical trial management system. Major factors contributing to the growth of the Asia Pacific market include increased government funding for clinical trials, the availability of limited regulatory guidelines compared to developed countries, greater patient base, a faster rate of patient recruitment in clinical trials than mature nations, lower operating costs of conducting clinical trials, shortage of volunteers trial in Europe and North America, as well as a growing number of pharmaceutical companies and CROs in the region.
The major players of CTMS market are Oracle Corporation (US), Parexel International (US), Bioclinica (US), IBM (US), Medidata Solutions (US), Bio-Optronics (US), Veeva Systems (US), DSG (US), MasterControl (US), ERT (US), Datatrak (US), Advarra Technology Solutions (US), MedNet Solutions (US), ArisGlobal (US), DZS Clinical Services (US), Crucial Data Solutions (US), Ennov (France), RealTime Software Solutions LLC (US), and DataStat (US).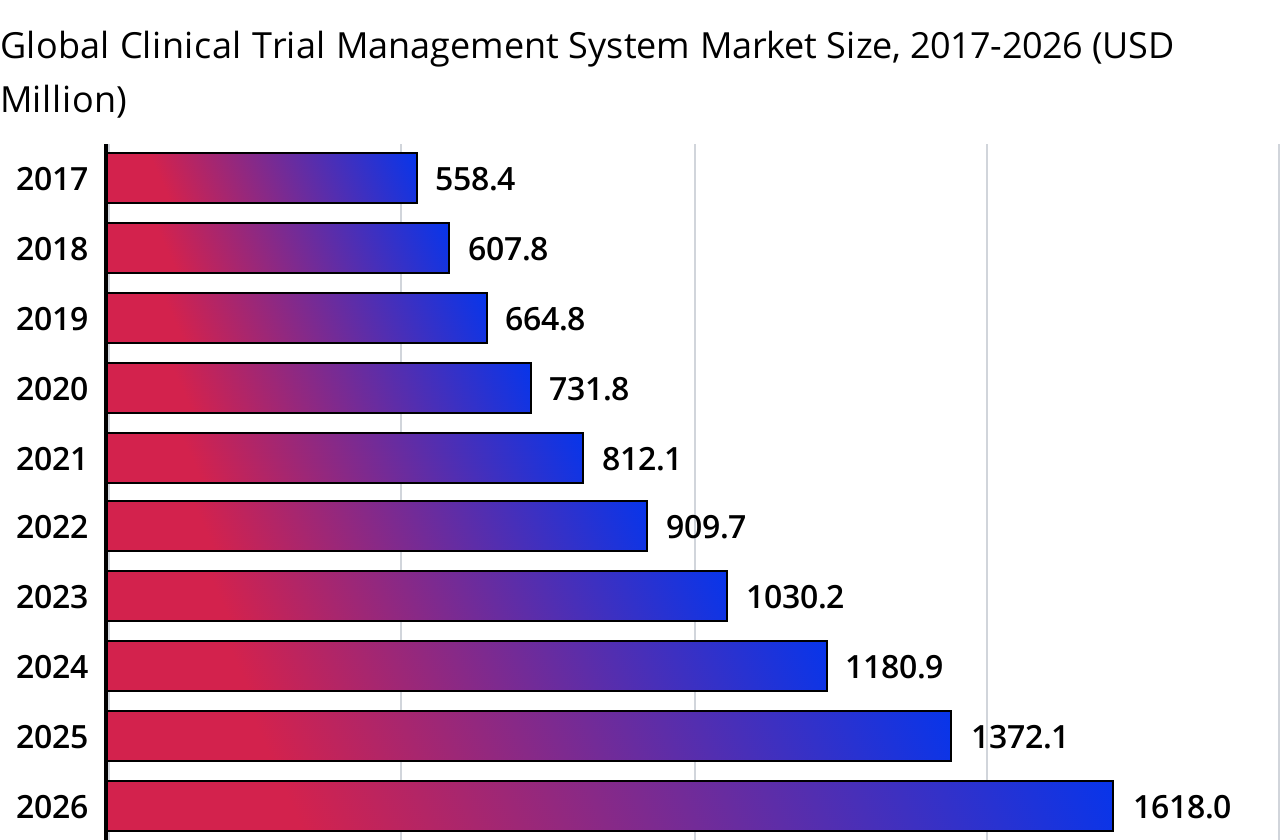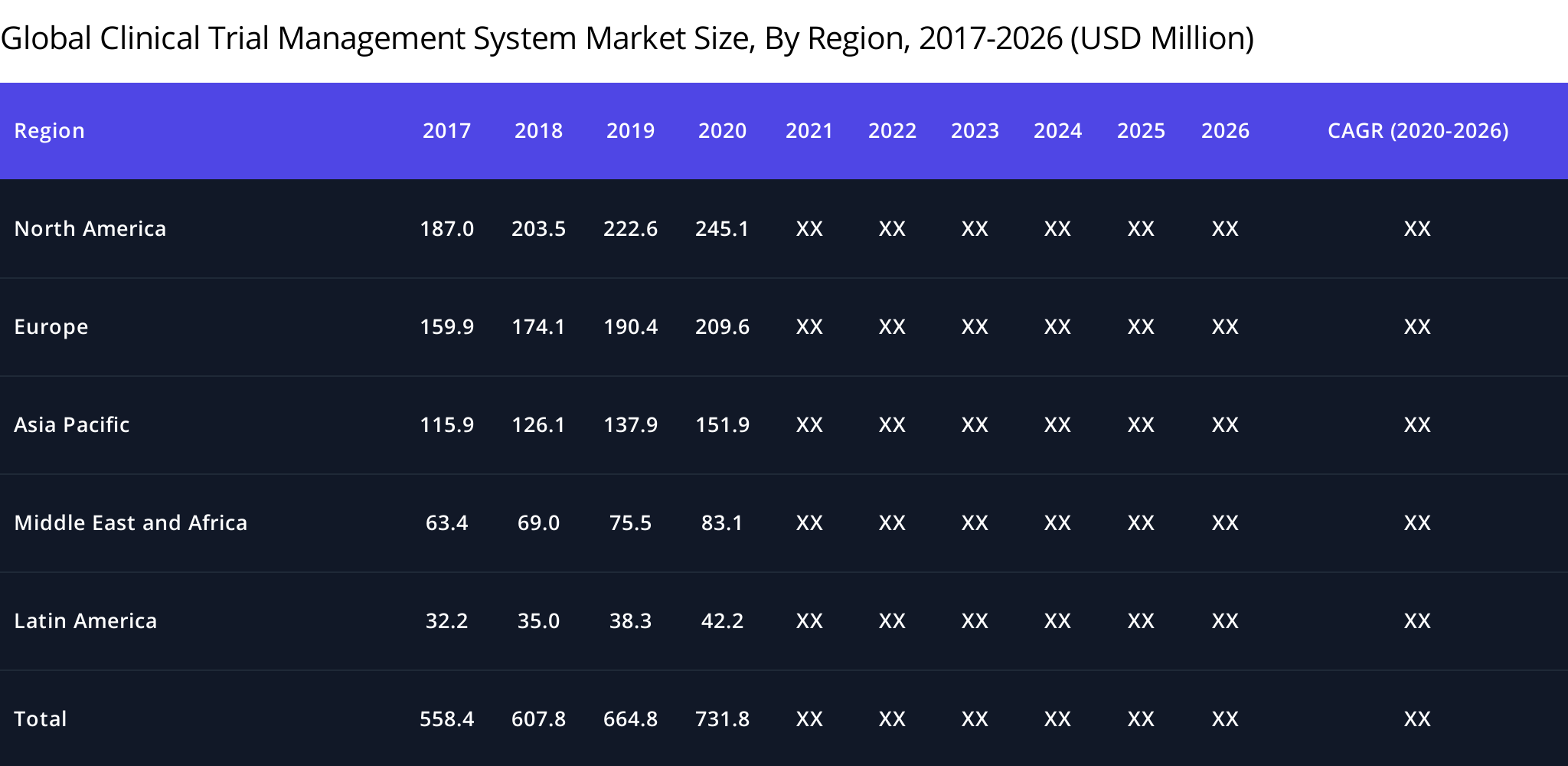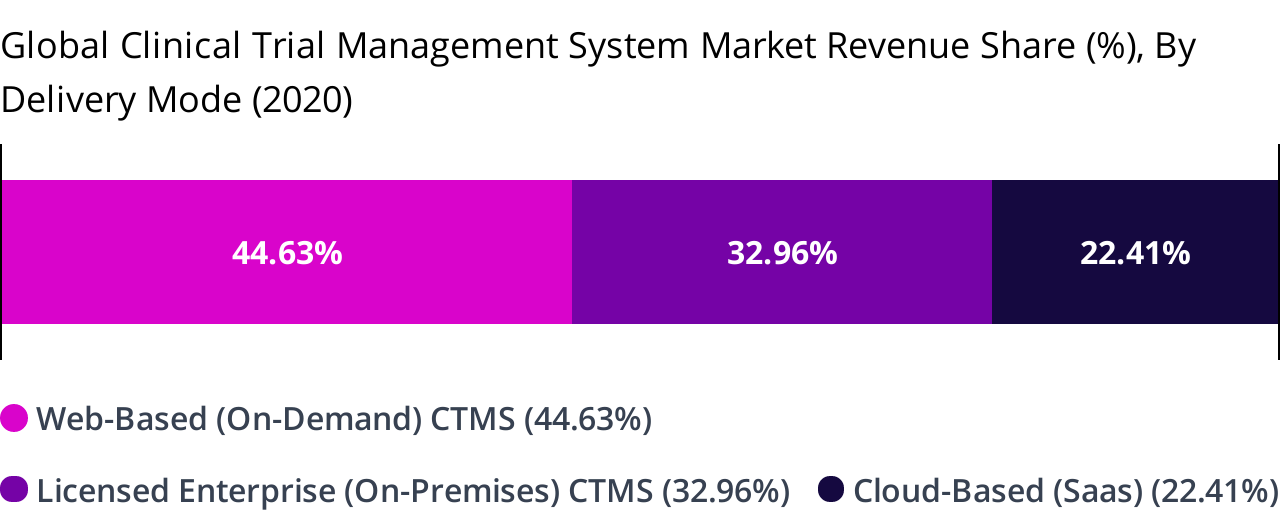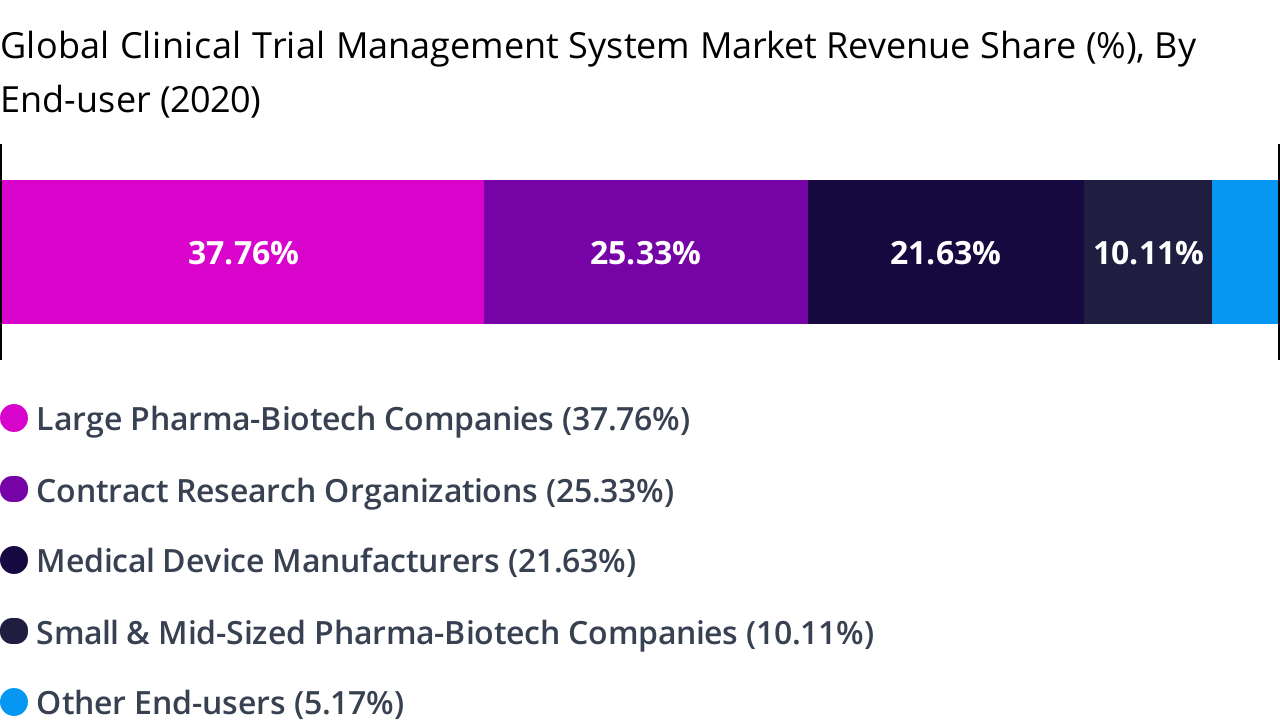 Market Overview
Definition & Scope
Clinical trial management system (CTMS) is a software program used to manage clinical trials in clinical research. This CTMS serves as a single, centralized, web-based business resource to support research studies conducted within or across the institutions.
Currency, Year & Forecasts Overview
For companies reporting their revenues in other currencies, the average annual currency conversion rates were used for a particular year to convert the value to USD.
For companies reporting their revenues in USD, the revenues were taken from their respective annual reports/SEC filings.
The currency used in this report is USD, with the market size indicated in terms of USD million/billion.
Industry Analysis
Unlock all the content, buy full report now.
Buy Full Report
Market Analysis
Unlock all the content, buy full report now.
Buy Full Report
By Deployment Type



By Delivery Mode




By Product & Service



By End-user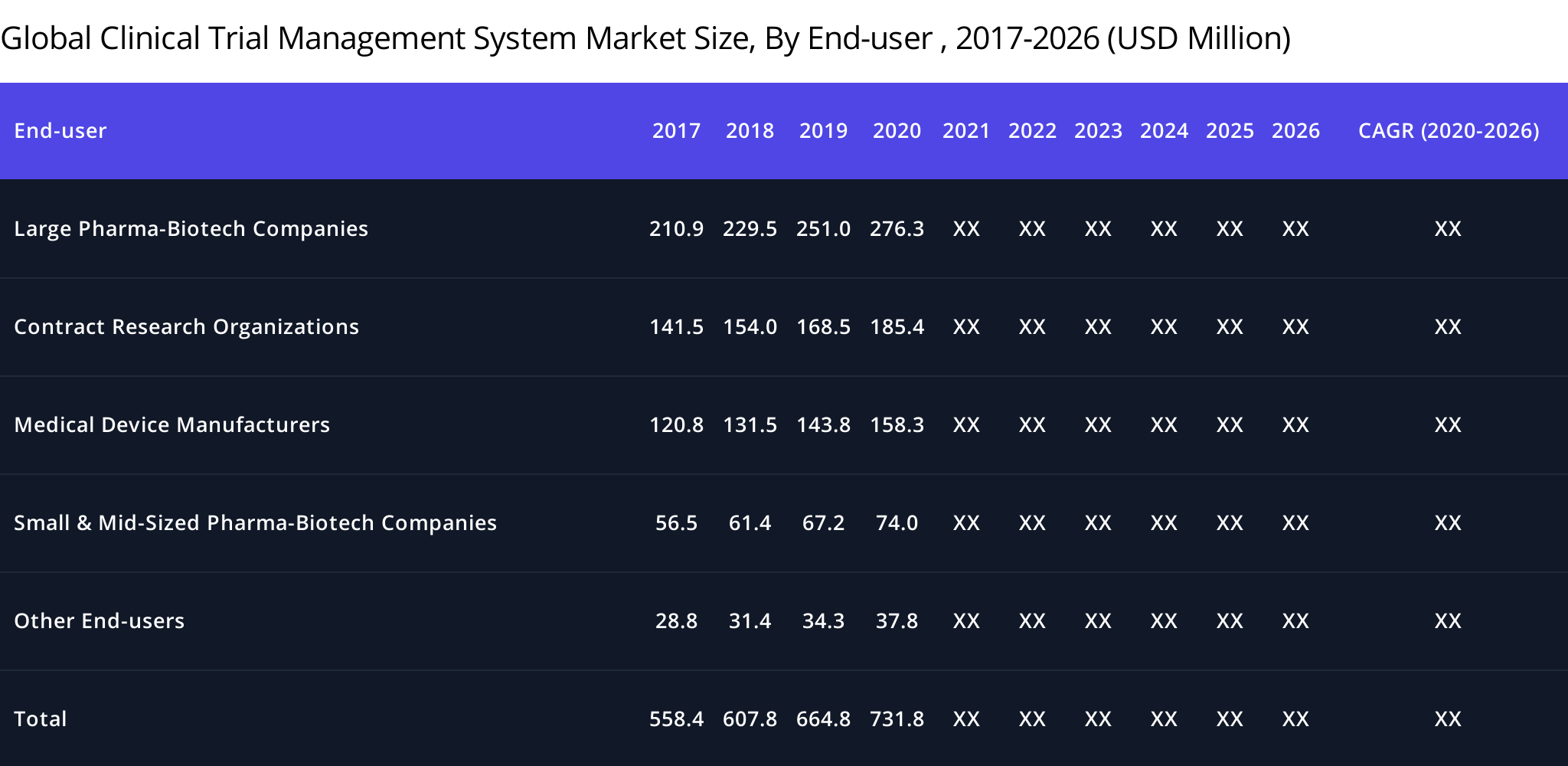 Middle East & Africa
Unlock all the content, buy full report now.
Buy Full Report
Company Analysis
IBM
IBM was founded in 1911 and is headquartered in New York, US. Its employee strength is 430,000. The company has a wide direct and indirect presence across the regions of North America, Europe, Asia Pacific, Middle East and Africa, and Latin America. It is one of the global leaders of AI, robotic process automation, cloud, blockchain, and cognitive security. IBM serves diverse industry verticals that include healthcare and life sciences, media and entertainment, IT and telecom, retail, BFSI, government, aerospace and defense, automotive, education, and electronics.
Clinical Trial Management System: IBM Clinical Trial Management System for Sites
Competitive Analysis
Unlock all the content, buy full report now.
Buy Full Report
Analyst Insights For Success
Unlock all the content, buy full report now.
Buy Full Report
Research Methodology
This research study involved the usage of extensive secondary sources, directories, and databases such a Hoovers, Bloomberg Business, Factiva, and Avention, in order to identify and collect information useful for this technical, market-oriented, and commercial study of the global clinical trial management system market. The primary sources were mainly industry experts from the core and related industries. These include service providers, technology developers, standards and certification organizations, and organizations related to all segments of the value chain.
In-depth interviews were conducted with various primary respondents, which include key industry participants, subject-matter experts (SMEs), C-level executives of key market players, and industry consultants, to obtain and verify critical qualitative and quantitative information as well as to assess future prospects.
Various secondary sources were referred to for the identification and collection of information for this study. Secondary sources include annual reports, press releases, and investor presentations of companies, white papers, medical journals, certified publications, articles from recognized authors, gold standard and silver standard websites, directories, and databases.
Secondary research was mainly used to obtain key information about the industry's supply chain, market's monetary chain, the total pool of key players, market classification and segmentation according to industry trends to the bottom-most level, geographical markets, and key developments from both market-and technology-oriented perspectives.
After the market engineering process (which includes calculations for market statistics, market breakdown, market size estimations, market forecasting, and data triangulation) was completed, extensive primary research was conducted to verify and validate the critical numbers arrived at. Primary research was also conducted to identify the segmentation types; industry trends; key players; the competitive landscape of global clinical trial management system market; and key market dynamics such as drivers, restraints, opportunities, challenges, and key industry trends.
In the complete market engineering process, both top-down and bottom-up approaches were extensively used along with several data triangulation methods to perform market estimation and market forecasting for the overall market segments and sub segments listed in this report.
Appendix
Available Customisations
•
With this full-market report, Consainsights offers customization options to our clients.
•
Custom Research: Consainsights offers custom research services across the Industries we track. In case of any custom research requirement, please send your inquiry at sales@consainsights.com
Related Reports
•
Clinical Decision Support SystemsCDSS Market
•
eClinical Solutions Market
•
Healthcare Analytics Market
•
Artificial Intelligence AI in Drug Discovery Market
•
Bioinformatics Services Market
•
Contract Research Organization Services CROs Market