Executive Summary
The global eHealth market size is expected to grow from USD 66.90 billion in 2020 to USD 220.06 billion by 2026 at a CAGR of 21.9%.
The shift to patient care combined with the proliferation of digital products and services enables remote recording and remote sharing of medical records. In addition, solutions such as mHealth applications and telemedicine services help monitor various health barriers at home, eliminating the need for hospital visits. Because of the many benefits of patient-centered solutions, their use in remote monitoring, consultation, diagnosis, treatment, and prevention is expected to grow in the coming years.
Over the years, there have been several advances in the IT healthcare sector, too, which have transformed various eHealth solutions and services into effective and efficient hands-on methods of managing complex tasks. IT health care systems offer several benefits and capabilities to meet the strongest requirements for managing and managing compliance risks. The changing regulatory requirements in the healthcare industry are leading to a paradigm shift in the eHealth market. As Health tools are an effective way to achieve the desired care goals while reducing costs, their needs are expected to increase among the various stakeholders in the coming years.
In the US, the Patient Protection and Affordable Care Act has led to the restructuring of private insurance, Medicare schemes, and Medicaid. As part of these changes, the American Recovery and Reinvestment Act (ARRA) and the Health Information Technology for Economic and Clinical Health Act (HITECH) have authorized the adoption of EMRs to enhance data interaction. This has increased the demand for various IT healthcare solutions in health organizations in the US. In addition, Medicare Access and the CHIP Reauthorization Act (MACRA) have established the Merit-based Incentive Payment System (MIPS), which integrates existing Medicare quality programs. These programs include the Physician Quality Reporting Program (PQRS), the Value-based Payment Modifier, and the Medicare EHR Incentive Program. The implementation of MIPS is based on four functional areas, namely, quality, resource utilization, clinical improvement activities, and meaningful use of certified EHR technology. The use of various eHealth solutions by physicians helps them to improve their performance and earn rewards for various types of payments under MIPS. In addition, the European Parliament, the Council of the European Union, and the European Commission have jointly initiated the General Data Protection Regulation (GDPR) (Regulation (EU) 2016/679) to strengthen and consolidate the protection of data for all persons within the European Union. (EU). The regulation encouraged the use of collaborative solutions to secure data access between health settings. Such developments increase the adoption of eHealth solutions such as EHRs, health information exchange solutions, and inter-asset transfer services for participants in care facilities.
EHealth solutions and services assist in the effective management of several non-clinical clinical activities in health care organizations. However, their efficient use depends on the willingness of end-users, such as health professionals, to switch to electronic solutions from patient records based on paper. Currently, many traditional health care providers (especially in developing countries) are reluctant to use eHealth solutions mainly due to a lack of IT knowledge. Many medical professionals do not have the technical expertise to use advanced IT solutions and consider creating, maintaining, and using electronic systems as a time-consuming task. Moreover, they feel that the use of these solutions is a time-consuming task with limited or no limitations. This raises doubts among health professionals to embrace new and innovative healthcare IT solutions.
The complexity of IT systems for advanced health care and the lack of user experience has contributed to the reluctance of physicians to accept these programs. Many physicians view the use of IT healthcare solutions as a time-consuming task and see them as a hindrance to their communication with patients. In addition, in rural areas, factors such as the lack of broadband technology and the shortage of professionals available to provide technical assistance are the main reasons why doctors are reluctant to accept HCIT solutions. All of these factors greatly affect the adoption of solutions for eHealth health care organizations.
Responding to growing pressures on health systems to lower care costs, most health care organizations are focused on providing specialized outpatient services. Switching to a patient care model increases the acceptance of eHealth solutions, as these solutions provide an easier way to deliver care. These solutions provide easy access to appointments and integration among full-time care providers in care delivery. In addition, these solutions assist physicians in addressing patients' (access) needs and allow remote monitoring of patient health. Because of the benefits of eHealth solutions, various state agencies also support the delivery of eHealth solutions to outpatient care facilities. For example, the Government of New South Wales (NSW), through its Community Health and Outpatient Care program, is still working as part of the eHealth Strategy for NSW Health: 2016-2026, which focuses on implementing EMR solutions in all-patient patient care centers. NSW. This has increased the acceptance of eHealth solutions among participants in outpatient care facilities to provide better health services and help improve patient outcomes. In addition, with the benefits of web-based management of chronic care, a large number of patients are now focusing on outpatient care needs. For example, as published by Crain Communications in November 2015, Flint-based McLaren Health Care Corporation's patient illness has increased to 57% in 2015 from 43% in 2014; this figure is expected to grow to 60% by 2020.
Therefore, the increasing use of eHealth solutions and services inpatient care facilities in line with the growing number of patients inpatient care centers is expected to favor the adoption of eHealth solutions.
The healthcare sector has refused to accept eHealth solutions primarily due to potential regulatory and legal liability issues. Electronic exchange of patient data provides greater access and efficiency to health delivery; however, issues related to data loss and debt due to wider access are associated with the electronic exchange of patient data.
Concerns about privacy and security have also increased due to the legal data privacy requirements imposed by HIPAA (Health Insurance Portability and Accountability Act). According to the Sixth Annual Benchmark Study on the Privacy and Security of Healthcare Data by the Ponemon Institute, breach of data on health care businesses is largely due to attacks by criminals and hackers. Over the past two years, on average, 90% of all health care organizations have seen one data breach. In the healthcare sector, medical records violations hold the highest rate in terms of all data violations, with 64% of attacks targeting medical files and almost 45% attacks on payment and insurance records.
In addition to the need to maintain safety standards in data protection, patients' concerns about the security of their data are another major obstacle to the growth of eHealth market. Clouds also see similar security issues as traditional IT systems and are therefore unpopular with the health care industry (hospitals and care providers) due to concerns related to data breaches and data loss. The successful implementation of eHealth solutions and services requires awareness and compliance with government legal requirements, which is a major obstacle to the growth of this market. Therefore, security concerns related to privacy, licensing, and data breaches between healthcare consumers and health care providers limit the growth of this market to some extent.
However, this issue can be addressed by establishing a legal framework to protect patient health information. In many countries, programs are in place to protect the privacy and confidentiality of the person receiving electronic care. For example, in Australia, every nurse and midwife must comply with the ANMC (Australian Nursing and Midwifery Council) Accreditation Code of Professional Conduct and Code of Ethics adopted by the NMBA (Nursing and Midwifery Board of Australia). Similarly, the European Union has adopted a Directive 95/46 / EC for the protection of patients about the processing of their health data. This multifaceted control system expands the introduction of new solutions to the eHealth market.
Based on products and services, the eHealth market is divided into eHealth solutions and eHealth services. In 2020, eHealth solutions segment had the largest share of the eHealth market. A large proportion of eHealth solutions are primarily driven by the need to control the rising cost of health care and to improve the efficiency of health services by reducing medical errors, increasing telehealth use, and government support programs and incentives for the adoption of these solutions.
By deployment, the market is broadly divided into cloud-based and on-premise. Over the past few years, the healthcare industry has seen advances in the field of information technology. Currently, health care organizations are increasingly embracing cloud-based solutions to increase access to patient records from remote locations. Most cloud-based solutions are usually based on a Software-as-a-Solution (SaaS) model, which uses a group of servers to deploy data processing functions across healthcare organizations. This technology is ever-changing, awesome, and expensive. The factors mentioned above are expected to drive partial growth.
In 2020, North America had the largest share in the eHealth market. Regional market growth can be attributed to a good regulatory environment, high acceptance of HCIT solutions to reduce rising health care costs, regulatory requirements regarding patient safety, and the presence of a large number of IT healthcare companies, such as Cerner Corporation (US), GE Healthcare (US), McKesson Corporation (US), Infor, Inc. (US), and Allscripts Healthcare Solutions (US).
The prominent players in the eHealth market include Epic Systems (US), athenahealth (US), IBM (US), GE Healthcare (US), Allscripts (US), Cerner (US), Optum (US), Philips (Netherlands), Siemens Healthineers (Germany), McKesson (US), Cisco Systems (US), and Medtronic (Ireland).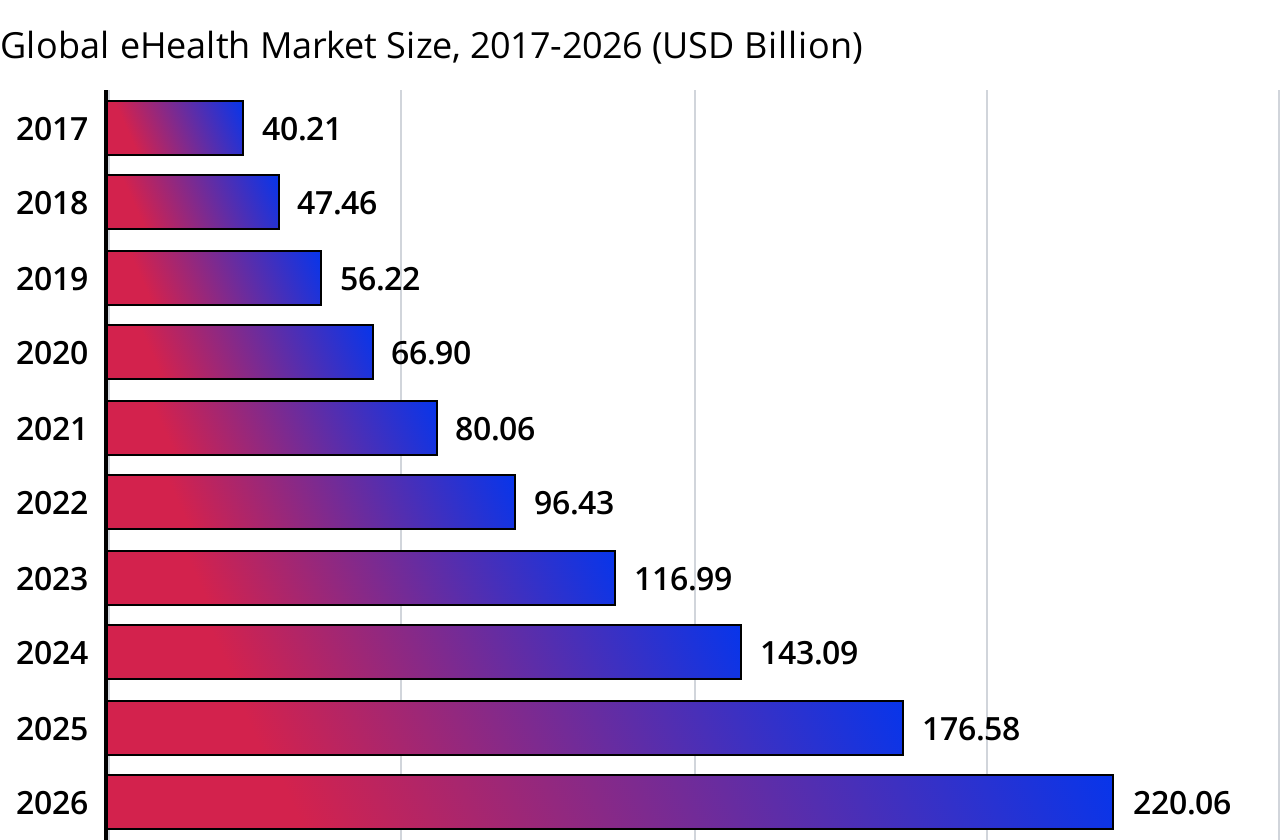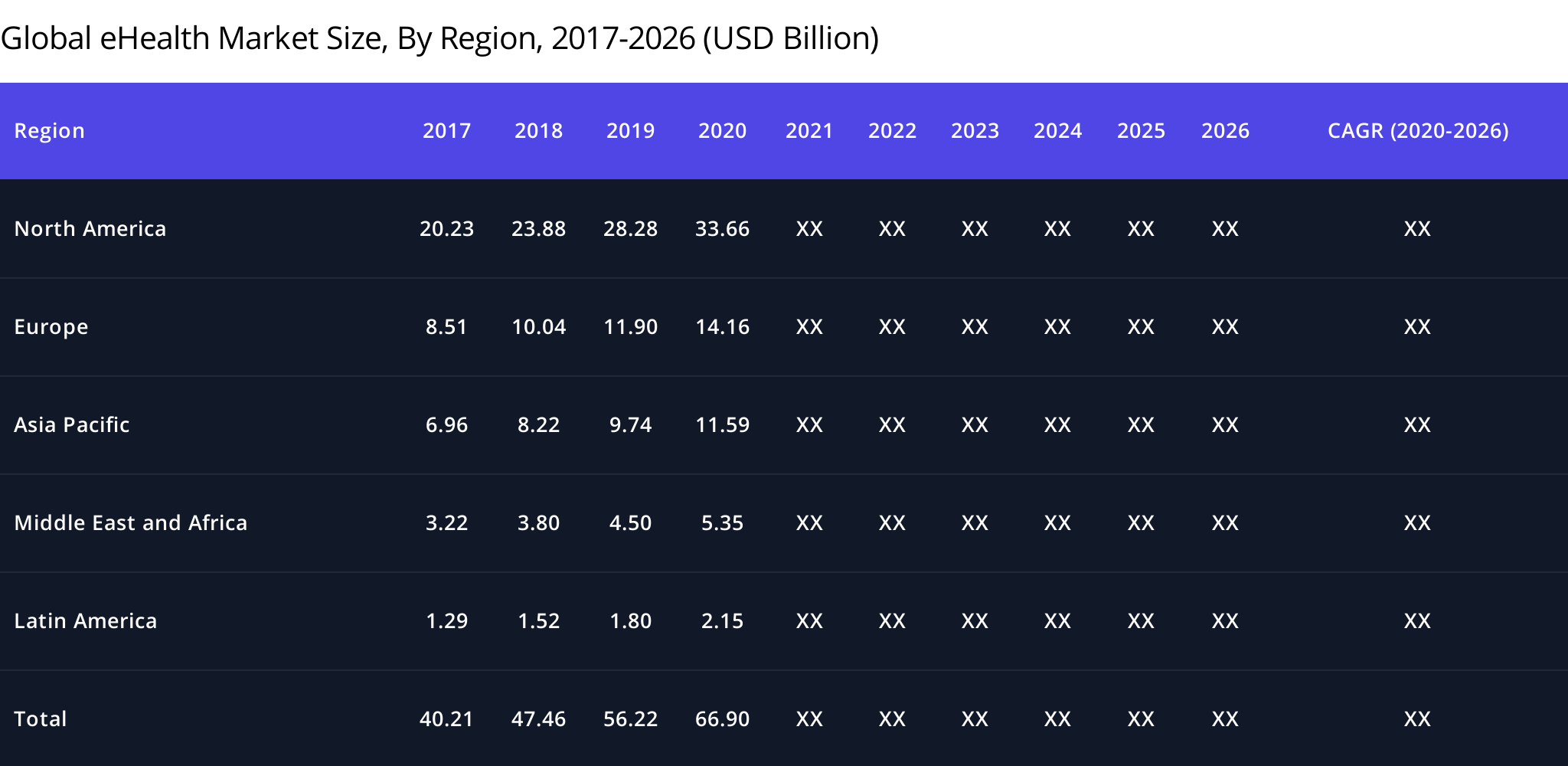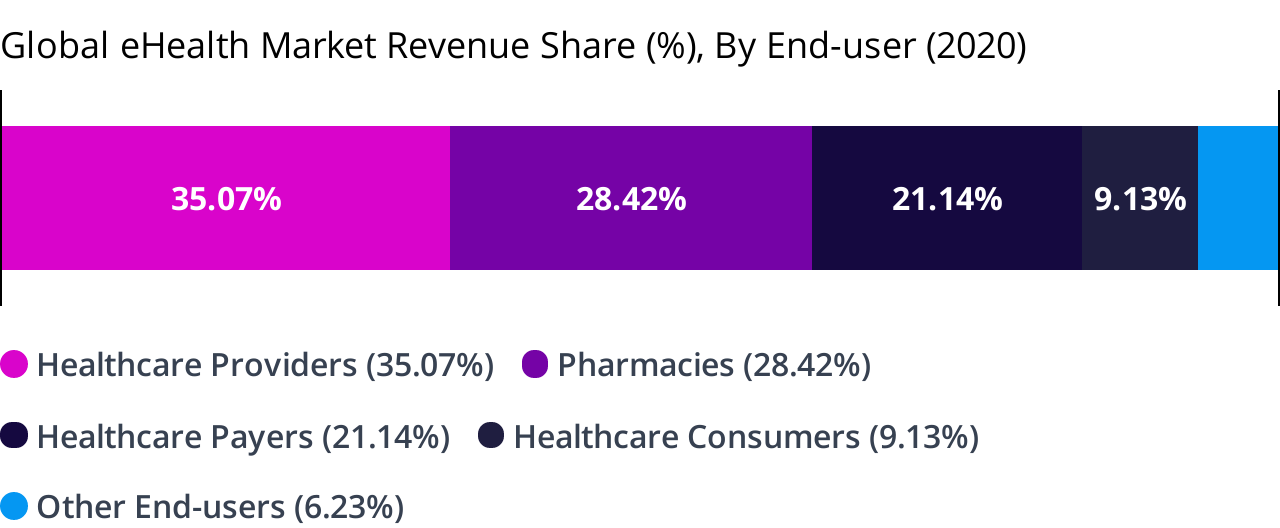 Market Overview
Definition & Scope
Ehealth is an emerging field merges the healthcare, public health and businesses, focusing on health services and information delivered or enhanced by the internet and related technologies. In a broad sense, the term is not only technological advancement, but also a state of mind, way of thinking, attitude, and commitment to network thinking, global thinking, improving local, regional and global health care. through the use of information and communication technology.
Currency, Year & Forecasts Overview
•
For companies reporting their revenues in other currencies, the average annual currency conversion rates were used for a particular year to convert the value to USD.
•
For companies reporting their revenues in USD, the revenues were taken from their respective annual reports/SEC filings.
•
The currency used in this report is USD, with the market size indicated in terms of USD million/billion.
Industry Analysis
Unlock all the content, buy full report now.
Buy Full Report
Market Analysis
Unlock all the content, buy full report now.
Buy Full Report
By Solution & Service



By Deployment Mode



By End-user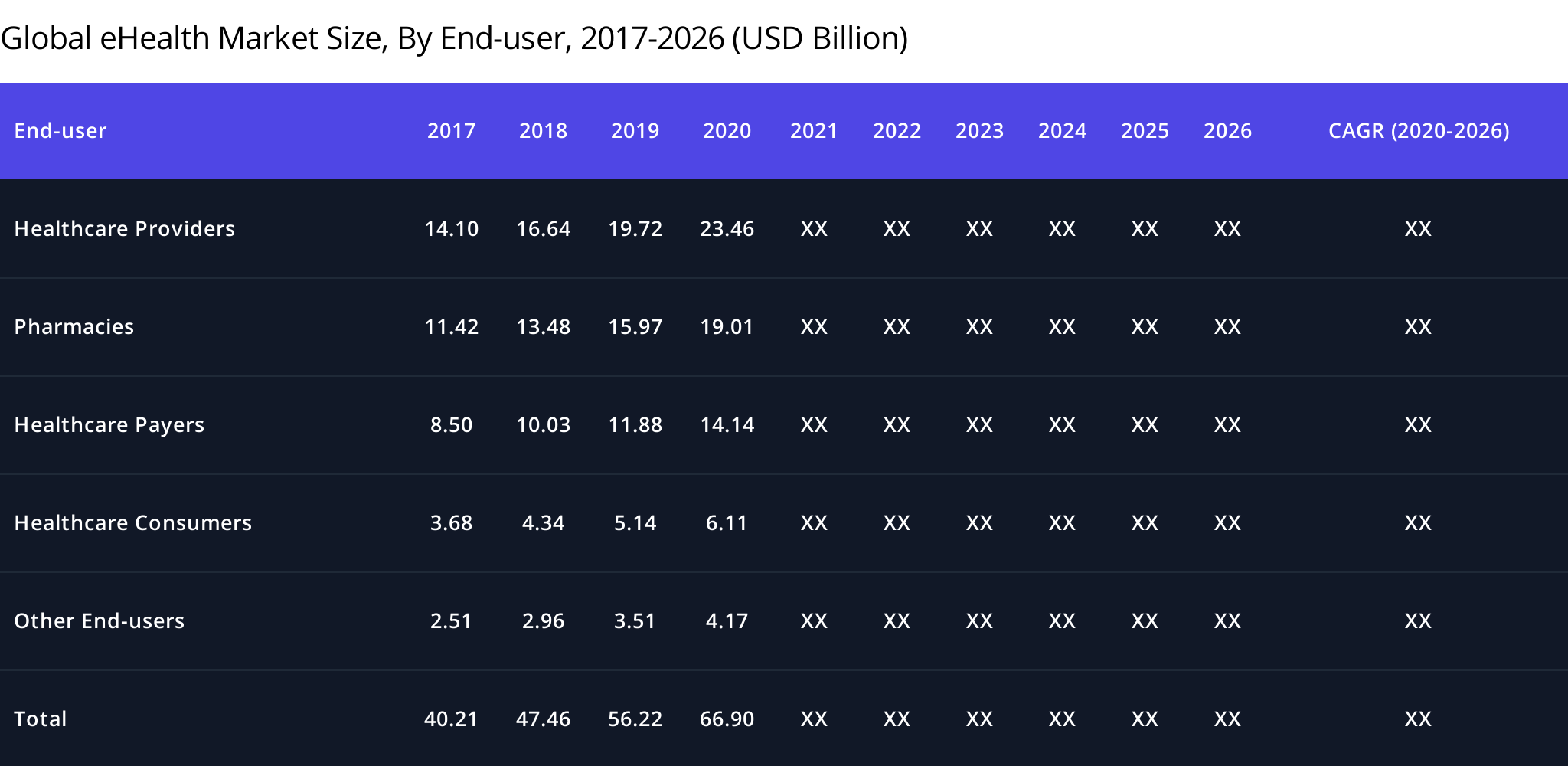 Middle East & Africa
Unlock all the content, buy full report now.
Buy Full Report
Company Analysis
IBM
IBM was founded in 1911 and is headquartered in New York, US. Its employee strength is 430,000. The company has a wide direct and indirect presence across the regions of North America, Europe, Asia Pacific, Middle East and Africa, and Latin America. It is one of the global leaders of AI, robotic process automation, cloud, blockchain, and cognitive security. IBM serves diverse industry verticals that include healthcare and life sciences, media and entertainment, IT and telecom, retail, BFSI, government, aerospace and defense, automotive, education, and electronics.
eHealth: Healthcare Technology Solutions & Services
Competitive Analysis
Unlock all the content, buy full report now.
Buy Full Report
Analyst Insights For Success
Unlock all the content, buy full report now.
Buy Full Report
Research Methodology
This research study involved the usage of extensive secondary sources, directories, and databases such a Hoovers, Bloomberg Business, Factiva, and Avention, in order to identify and collect information useful for this technical, market-oriented, and commercial study of the global eHealth market. The primary sources were mainly industry experts from the core and related industries. These include service providers, technology developers, standards and certification organizations, and organizations related to all segments of the value chain.
In-depth interviews were conducted with various primary respondents, which include key industry participants, subject-matter experts (SMEs), C-level executives of key market players, and industry consultants, to obtain and verify critical qualitative and quantitative information as well as to assess future prospects.
Various secondary sources were referred to for the identification and collection of information for this study. Secondary sources include annual reports, press releases, and investor presentations of companies, white papers, medical journals, certified publications, articles from recognized authors, gold standard and silver standard websites, directories, and databases.
Secondary research was mainly used to obtain key information about the industry's supply chain, market's monetary chain, the total pool of key players, market classification and segmentation according to industry trends to the bottom-most level, geographical markets, and key developments from both market-and technology-oriented perspectives.
After the market engineering process (which includes calculations for market statistics, market breakdown, market size estimations, market forecasting, and data triangulation) was completed, extensive primary research was conducted to verify and validate the critical numbers arrived at. Primary research was also conducted to identify the segmentation types; industry trends; key players; the competitive landscape of global eHealth market; and key market dynamics such as drivers, restraints, opportunities, challenges, and key industry trends.
In the complete market engineering process, both top-down and bottom-up approaches were extensively used along with several data triangulation methods to perform market estimation and market forecasting for the overall market segments and sub segments listed in this report.
Appendix
Available Customisations
•
With this full-market report, Consainsights offers customization options to our clients.
•
Custom Research: Consainsights offers custom research services across the Industries we track. In case of any custom research requirement, please send your inquiry at sales@consainsights.com
Related Reports
•
mHealth Solutions Market
•
TelehealthTelemedicine Market
•
Health Information Exchange HIE Market
•
Clinical Decision Support SystemsCDSS Market